The Ins and Outs of Fashion: Comfort Clothes
The chilly weather slowly eases into sunny days, but the winter style isn't going as quickly.
In: Sweating in Sweaters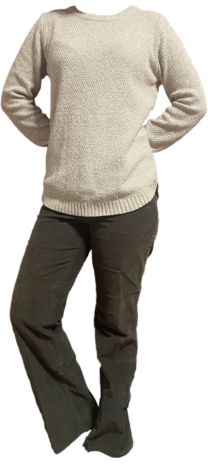 Despite the warm climate, this time of year brings back cozy sweaters. This article of clothing has gone through many ways of being styled: tucked, cropped, cut, loose and tight. The popularity never fades, so if you are not sure what to wear, buy a sweater and try it out. It is a versatile piece that can fit any style. Many people have recently been wearing it with leggings, but you could also pair it with some fitted or loose pants to dress it up or down depending on your style.
Out: Scrunchies, VSGO!
A trend that dominated the internet in 2020 and originated in the late '80s is officially out of the loop. The accessory was not only used for tying up hair, but also to wear on the wrist as a bracelet. The trend became so popular that people would have bins full of just scrunchies, wearing up to 10 on their wrists. Once it was associated with the "VSCO girl," it slowly lost its popularity until it was replaced with other accessories, such as the serge in claw clips. With the end of the trend, so is the overall style that goes along with scrunchies.


Next: Getting Fuzzy with Boots
Everyone online apparently got the new UGG slippers for Christmas, bringing the brand back into popularity. They were formerly known for their fuzzy winter boots, which is exactly what they may once again be popular for. With the slipper trend, there seems to be more interest in this look of the shoe, and there is only time before the full boot is loved once more. Many people have been seen pairing the slippers with a sweater, a perfect outfit during a cold day. As Floridians, any way to pretend that it's winter is a win.
About the Contributor
Grace Hilton, Staff Reporter
Grace Hilton is a junior at Hagerty High School, and this is her first year on staff. She enjoys writing all types of stories, mostly sports, and doing photography.