Oviedo voters headed to the polls Tuesday, Nov. 7 to decide if an additional $35.5 million would be allocated to building a new Oviedo police station. In 2016, the costs were set at a maximum of $11.4 million. The proposed funds would have increased the total budget to $46.9 million, but it failed to pass with 63% of voters voting no.
The need for more funds stemmed from inflation of building material prices. In 2016, the cost per square foot was $286, and now that price is up to $550 per square foot for construction alone. With the referendum being rejected, Oviedo will move forward with the new station using the funds approved in 2016.
"We have no choice other than to fall back on the $11.4 million bonds–if we can't then we'll have to look at alternative funding sources, or we'll have to start drastically cutting things out," city manager Bryan Cobb said.
City officials say the current station is not large enough to handle the predicted population of 50,000 in 2038, and it also lacks a K9 facility. The police force plans to add two more detectives in future years and does not have adequate office space.
"How are we letting this building sit here…it's embarrassing. I wouldn't work there myself, and we need to address that," council member Natalie Teuchert said.
"
"How are we letting this building sit here…it's embarrassing. I wouldn't work there myself, and we need to address that."
— council member Natalie Teuchert
On Nov. 2, prior to voting, a meeting open to the public was held at city hall to discuss the upcoming bond referendum. Opinions were split, with some residents believing that the increased funds were necessary to build a sufficient police station and others doubting if $46.9 million was needed given the size of Oviedo. By comparison, in 2017 the city of Orlando, which has a population almost eight times larger than Oviedo, built a new police complex for $50 million.
The meeting was tense, at times those opposing the referendum questioned if a new station was really necessary, considering Oviedo's low crime rate. Some residents simply do not want to pay more taxes, and others wondered why the city did not take action sooner.
"Why didn't we build in 2017 when the price was a lot less, and you were on the tail end of a bond that had been accepted already?" an Oviedo resident asked Mayor Meagan Sladek and the city council.
After the meeting, Deputy Police Chief Mike Beavers led a tour of the current police facility. Beavers pointed out areas such as the kitchen floor which had been partially pulled up due to water damage. Beavers explained that while Oviedo's crime rate is very low, the predicted population increase will also come with an increase in crimes.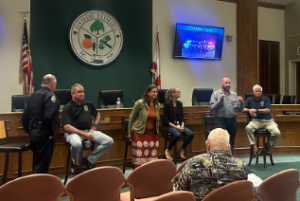 "We're tucked away here on the east side of the county, but sometimes people from  West Orange County come out here to pull on car doors and commit crimes," Beavers said.
The main factor in the referendum's failure to pass may be that residents simply were not willing to pay. Mayor Sladek explained that this unwillingness to pay may come back to be a problem in future years.
"My passion project is getting Oviedo out of debt, the way that we do that is not to wait until we have emergencies where we have no choice but to borrow." Sladek said.
The city does not want to wait until the current station is in a state of disrepair to take action, believing that a building slowly funded for by taxpayers is better than a building built with an emergency loan. With the referendum's failure to pass the city plans to move forward with the originally approved $11.4 million.