Despite growing up in a family of educators, Kim Dansereau never wanted to be a teacher. This year, she is celebrating her 33rd year teaching, and her first time as the school's Teacher of the Year. 
"It is a really great feeling to know that students enjoy my class and they feel they learned something," Dansereau said. "I think it's in my genes to be a teacher. [This award] just validates my chosen path."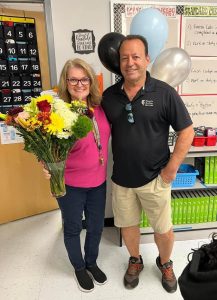 In October, administration surprised Dansereau with balloons and flowers, along with an unexpected visit from her husband. The celebrations did not end there—on Nov. 7, Dansereau was announced as a finalist for the SCPS Teacher of the Year contest. The county level award chooses nine teachers as semi-finalists, and three (representing the elementary, middle and high school divisions) move on as finalists.   
Although teachers are often at the forefront of school appreciation programs, Hagerty makes the effort to include non-instructional employees as well. On Oct. 30, administration announced mental health counselor James Bartlett as Non-Instructional Employee of the Year. 
Coming on as full-time counselor last year, Bartlett was in the middle of a debriefing session when principal Robert Frasca walked in.
"The next thing I know, my wife and son walk in. I looked at my wife, looked away and then immediately [my eyes] went right back to her," Bartlett said. "It was just so many emotions, shock being a big one. I was one hundred percent caught off guard." 
With Frasca's increased emphasis on mental health awareness, Bartlett's job "never has a dull moment." From individual student sessions to impromptu phone calls with teachers, Bartlett has come into contact with most, if not all, of the school staff.
"I love seeing the team come together to help us [help students]. I'm the mental health counselor here, but I can't do my job without the teachers, who are on the front lines and see things before anybody. The school counselors, too, point out kids that maybe I'm not catching," Bartlett said. 
In past years, Dansereau and Bartlett have crossed paths as they exchanged calls about struggling students and ways to help them.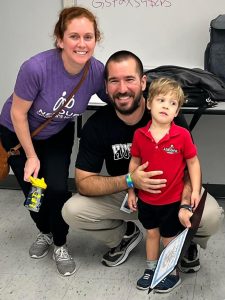 "I know how much [Dansereau] cares about her students and how passionate she is about chemistry," Bartlett said. "She works very hard to support her students even after school. I would have liked to have a teacher like her in high school."
Dansereau attributes her "motherly" teaching style to having kids of her own. Drawing inspiration from her own high school teachers, Dansereau is heavily involved outside the classroom, leading teacher committees and advocating for students. 
"Chemistry is hard. I try to make it fun by telling silly chemistry jokes, and making up little songs and dance moves. [I want] to get them to think about chemistry outside class, and hopefully remember some things," Dansereau said. 
As a mental health counselor, Bartlett has also had to learn how to tackle difficult topics with grace, especially when it comes to destigmatizing his profession.
"[Most people] think you go to a counselor because you're severely mentally ill, or you have schizophrenia, or you're bipolar or you're crazy; it's really just having someone to talk to and problem solve with," Bartlett said. "There are so many students who think adults don't care, and I like to fill in that role to be someone they can come and talk to."
Although their day-to-day schedules look vastly different, both Dansereau and Bartlett view student improvement as the most satisfying part of their job. 
"Seeing a struggling student make a connection—the spark and the pride in their eyes and their face [is my favorite part about teaching]," Dansereau said. "It's just really rewarding and special."