Thespians deliver superior performances
As the awards were being announced at the November district three thespian festival, troupe 6885 knew their hard work paid off spectacularly, as they took home over 20 superiors, the highest possible award. On Feb. 21, members of the troupe performed these award-winning acts at their superior showcase in the auditorium. The entire set took around two and a half hours, with 19 of the superior acts performed overall. 
One of the most exciting of these award-winning acts was the performance opener, "Abigail/1702," a 37-minute one-act performed by select members of the troupe, including senior Lily Joseph and junior Carter Wegman in leading roles. "Abigail/1702" will be advancing to the state festival, and is the troupe's first one act to achieve this honor.
Along with "Abigail/1702," five other acts will be advancing to the state level, including a duet musical piece "In the Green," performed senior Mackenzie Allis and junior Ansley Howell, monologues from "The Actor's Nightmare/Hamlet," performed by Joseph, a publicity design for "The Great Gatsby" by senior Ainsley Newton, and scene designs for "She Loves Me," made by senior Zoe Zachry and "Next To Normal," made by senior Grace Catina.
Although anyone can audition their act to compete at districts, the audition process is extremely selective and not everyone is able to perform. Only three acts from each category are chosen to perform at districts.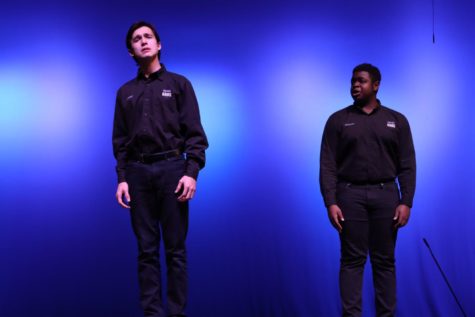 "There are many different events to choose from to compete at districts with, but you're not guaranteed any one of them. We can only take 3 of each event, so it is never set in stone," Neha Kabir, troupe 6885's social media manager, said.
Not all categories were traditional musical or acting numbers. Sophomore Natalie Rodriguez participated in stage makeup, while senior Marcnell Pierre entered in choreography.
Theater director Jamaal Solomon instructs a competition class for thespians, where students must audition in order to join. However, students do not need to take the class in order to compete. The troupe works on their competition pieces throughout the first quarter, getting them superior-ready. 
"Thespians who compete and do not take this class have the flexibility to work on it whenever, however, they don't get the luxury of completing it in class," said junior Jazlyn Compton.
Up next for the troupe is the state thespian festival in Tampa from Mar. 15–18.
Donate to The BluePrint Online
Your donation will support the student journalists of Hagerty High School. Your contribution helps us publish six issues of the BluePrint and cover our annual website hosting costs. Thank you so much!
About the Contributor
Kailey Calvo, Print Editor
Kailey Calvo is a junior at Hagerty High School and this is her second year on staff. She is acting secretary of Rho Kappa and treasurer of Girl Up. In addition to being heavily involved in her community, Kailey enjoys traveling, reading, and attending concerts.