Band stomps across Ireland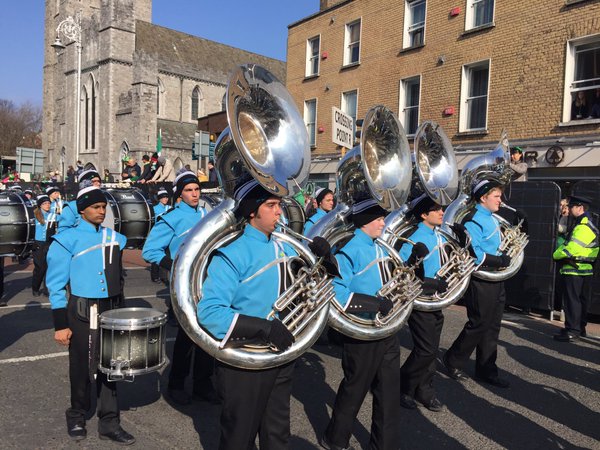 Traveling to a country you have never been to can be scary, but performing in a national parade while the majority of the world is watching is even more terrifying. The marching band spent six days in Ireland to perform in the St. Patrick's Day parade and to experience the culture and music of the country, which included visits to places such as Dingle, Moher, Cork and Glendalough.
"Bands, in general, tend to take trips at least once every three to four years in order to give students the opportunity to travel at least once during their high school career," band director Brian Kuperman said. "It provides a new audience outside of their hometown and a chance to visit new places."
After an eight-hour flight to Dublin Airport, the group spent their first day exploring the city's shops and experiencing the chilly weather.
"The ride there was fine because it was at night but the ride back was horrible because we hit some bad turbulence," junior Bailey Carroll said.
The busy second day started with breakfast at the hotel and followed with a check-in at the parade site at 11 a.m. Half a million people were estimated to be in Dublin watching the parade, and even more watching at home. It was the largest parade and audience they had ever performed for.
"
Even if I do travel back to Ireland, I probably won't ever get to be a part of the parade again, which made that day pretty awesome."
— senior Michael Stoddard
The band needed to rehearse twice a week after school for several weeks in order to build up their stamina, due to the fact that they last marched in the fall. Once in Dublin, there was little to no time to run through their routine, but according to Kuperman, all of the pieces were ready and well-rehearsed once the parade rolled around, allowing the parade to run smoothly.
"It was overwhelming and a bit surreal to see people on top of statues and nearly hanging out of windows and lining up on the streets just to watch the entire parade," freshman Nicole Assenmacher said.
The next four days involved traveling to sites and small towns so that the students could experience the different culture and ambiance the country brought. Sites such as the famous 320 million-year-old Cliffs of Moher, which have been seen in movies such as "The Princess Bride" and "Harry Potter and the Chamber of Secrets," were a group favorite.
"The Cliffs of Moher were pretty cool but also really scary because some people would go right up to the edge and were literally one step away from dying," junior Bailey Meyer said.
The band also visited Blarney Castle near Cork, Ireland, and some kissed the famous Blarney Stone, which is said to give one "the gift of gab," persuasive speech and eloquence, if one kisses it.
While a majority of the food was covered in the cost of the trip, some smaller groups visited small pubs around the country and experienced foods locals eat such as blood sausage and fish stews, which many group members described as mushy and not very sweet. Band members also made multiple stops to grocery stores so that they could have picnics at the different national parks.
"My favorite part of the trip was staying in Dingle because it was right on the sea and it was just a very neat and small little Irish town," junior Bailey Carroll said.
According to Carroll, places like Dingle where people spoke mostly Gaelic were interesting to hear. Their alphabet does not have the letter "J" and they do not pronounce the "Th" sound in any of their words or phrases.
"Usually when we went to stores their accent would be really thick," Carroll said. "This one lady tried to tell me what the price was and I had to ask her a couple times because I didn't understand and she seemed super mad."
Three Seminole Country police officers and Assistant Principal Brian Blasewitz accompanied the group on the trip for safety and remained with the group until the nine-hour trip home on Tuesday, Mar. 22. Many of the parents also went on the trip, some with the group and others on separate tours, and got to see the band perform in the parade on St. Patrick's Day with the rest of the crowd.
According to the band directors, they do not have any plans for future trips but will soon be looking for more locations to take students.
"It was a lot of fun and I think it was a really good experience for everyone, especially those who hadn't been out of the country," Assenmacher said. "To be able to march in such an important parade was an honor."
Live feed @hhsIrishHuskies pic.twitter.com/1NZpdzQWGH

— Lori (@loriv1113) March 17, 2016
About the Contributor
Victoria Tomeo, Lifestyles Editor
Victoria is now a senior at Hagerty and this is her second year on staff. She attended the Atlantic Center for the Arts last summer and spends her time doing photography, listening to music and reading her AP Lit books. She hopes to pursue a career in photo journalism.