Ben and Nate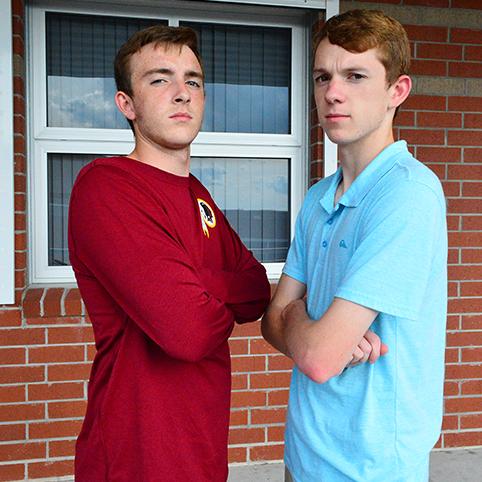 Nate: It can be easy to get stuck in the everyday grind of school, but once in a while, we all need to break from the usual, and we want to do something different.
Ben: Nathaniel and I will take that break for you, using this column to try obscure sports and activities you might not know about, and we'll let you know whether to try it for yourself. Keep in mind that neither of us are very athletic, nor skilled, so we are out here representing the common man.
Nate: This issue, we took our talents to the Twin Rivers golf course, but brought no golf clubs. We were there to play FootGolf, a mix of soccer and golf. Basically, the big difference is that your foot is the driver, five iron and the putter. The hole is slightly larger and the distance is shorter.
Ben: It costs $20 per person, and to rent out soccer balls cost $12, which they give back to you after you return the soccer balls. Golf carts are also provided, thankfully, and there was no additional costs for using those. We would recommend bringing your own soccer balls so you don't have to worry about having $12 in cash on you to rent them out.
Nate: From the very first kick, I could tell this would be a long day. The first few holes were the most fun because we were both relatively fresh. I took the early lead, and the fact Ben got an eight on three holes in the front nine did not help him either.
Ben: I was the Happy Gilmore of FootGolf. I would get the ball down to the hole faster than everybody else, then just could not finish on the putts. It was honestly semi-demoralizing. But in my defense, some of those holes were difficult. For instance, there was that one where the hole was kind of up on a hill, and whenever you missed the putt, the ball would roll down the hill and make things a lot harder. But don't act like you didn't get three sevens, Nathaniel.
Nate: Ben, after that beating, you had to be feeling a lot more like Sad Gilmore. But I do understand, there was that one hole that was in between Lockwood and a small pond. If I kicked it too hard it's in the street and if I miss right it's in the water never to be seen again.
Ben: I don't need this kind of harassment right now. Let's get back to actually talking about the sport. At the end of the front nine, I had a score of 58, and Nate had a 52.
Nate: After the front nine, it was more of the same, except Ben had a partial comeback, but still lost by three, finishing with 116 while I had 113. This was on a par 71 course, by the way, but if you finish with anything less than a 100 then you are probably Lionel Messi. I attribute Ben's comeback to my extreme level of fatigue after several hours of play, but Ben would more than likely say otherwise.
Ben: I would say otherwise, but I want to go back to something you said, though: by the time we finished, we had been there for a little over three hours, and in the September heat, we were absolutely dead. Bringing water was the best choice we made that day, and we were very thankful for the water coolers throughout the course.
Nate: And of course we can't leave out the golf carts they let us drive which made the three hours a lot more manageable. The real downside to this was that several days after, I was still sore. Now, this may be due to the fact that I haven't played soccer since kindergarten, but either way, it is physically tolling.
Ben: Don't wear your new sneakers, either. The course wasn't really muddy, but by the end, the top of my shoe was black. So, to wrap up: if you go to play FootGolf at the Twin Rivers course, make sure you bring water as well as shoes you don't mind getting dirty.
Nate: All in all, it was a fun day. For $20, it's definitely worth the money to play all 18 holes. I would probably want to designate most of a day for it and would recommend you find out how to properly kick a soccer ball first to avoid soreness.