A "fantastick" idea
Theater department brings audience on stage
Have you ever been to a show where you had a bad seat or you were so far back you could barely make out what was going on? There is no chance of that with the theater department's new upcoming play "The Fantasticks."
"The Fantasticks," which premieres Friday and Saturday at 7 p.m. and Sunday at 2 p.m. in the auditorium, is the first school play to have the audience seated on the stage right next to the actors.
"There are different types of ways to view and experience theater; one of the most interesting is what they call "arena theater" (theater in the round), and that's the audience on all sides of the stage," said director Trevor Southworth. "You can see the show multiple times, and depending on where you're sitting, have a completely different experience."
The new setup came in addition to Southworth's original idea to give his seniors their own smaller-sized production.
"He just wanted an extra chance for the seniors to showcase all of their talent," senior Antonio Esposito said. "He did it to ensure everyone got their moment to shine."
Esposito has been with the theater department for three years and plays the father of a young girl.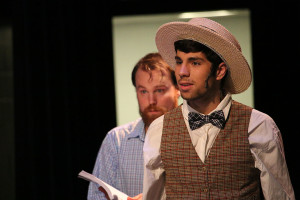 The theater deptartment has been known for huge, extravagant sets, but for this show, circumstances are different.
"This one is more intimate and close, simple even," said Esposito. "Our other shows are large, complex, and grand. This one is a different type of grand. It's a small thing that packs a large punch."
What adds to the small size of the show is a total cast of eight.
"I love small cast shows," said Southworth. "With a small cast you have more time to work with the intimate moments, to really build character between this small group of actors and each one of them gets a moment to really shine and stand out."
Advance tickets can be bought in the cafeteria for $9 or at the door for $11.