Girls soccer moves forward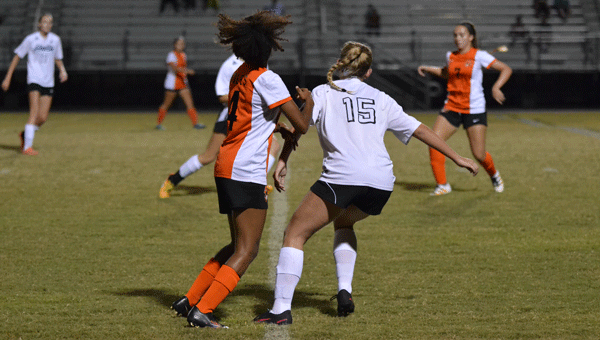 Running until their legs are shaking, shooting until they get the perfect goal and passing until they have the best set-up is what the girls' varsity soccer team works toward.
Conditioning started in September and the season started in late October, they are currently about two thirds done with their season. The team has improved since the start of the season by focusing on their team dynamic and working as one.
"We have to start playing at a higher level for every game and not just at our opponent's level," center back Kate Medla said. Medla has been playing for around nine years and this is her second year on the team.
Practice is every Monday and Wednesday, and is held for about two hours each day. They have two games per week, usually on Tuesday and Thursday. Practice mostly consists of conditioning, such as Indian runs around the soccer fields or a few one-twenties. Also, they work on shooting, passing, moving the ball around and run through plays.
Team bonding takes place on Friday, the team usually gets together to eat carbohydrates, so they can perform better in games over the weekend and they will also go over plays.
The best played game so far was the rivalry game against Oviedo. For the first time in four years, they tied, 1-1. In the past four years, they have not won or tied against them. The lone goal was scored by Junior Madison Capps.
"There was literal blood shed that game and a lot of effort was put into the outcome." forward Alyssa Gayton said. Many players ended up with busted lips, cut knees and multiple other injuries.
Highlights from the season include a 4-0 win against Lake Howell and a 3-0 win over Lake Highlander Prep. They also attended the Julie Weber Memorial Classic on Saturday, Dec. 17, where they went a record 2-1 in the first round. Additionally, they won the Families in Transition award and set a new record at the JWMC after donating 1,408 cans to families in need.
At the beginning of the season, the main goal for the team was to beat Oviedo, but the ultimate goal for the team, like any other high school sports team, is to reach states. They would face off against the other top-schools from other counties. The only time girls' soccer attended states was three years ago, in 2013.
"It took a while for all of us to get used to playing with one another.," center attacking midfielder Hana Mutawe said. "I think we will make it [to states] if we play as a team and put in the effort every time we get on the field." Mutawe is a sophomore and is also on her second year playing for the team.
Currently, they are fourth out of eight teams in the district, following Oviedo, Lake Mary and Winter Springs. Last year's record was 9-6-5, and with three games still remaining, as well as tournaments and playoffs, this year's team has a chance of beating their record because of many returning players.
The girls beat Lake Minneola last night, Wednesday, Dec. 21 with a score of 2-0. The next game will be against Apopka on Tuesday, Jan. 10, starting at 6 p.m. for JV and 7:30 p.m. for varsity. The girls are 7-5-3 overall and 5-3-2 in the district alone.