Fashion fanatics and their "street" clothes
High school males have become preoccupied with a certain fashion trend.
Not many people would remember that stylish Jenny Lewis music video for "Just One of The Guys" if it weren't for Anne Hathaway, Kristen Stewart and Brie Larson dressing up as stereotypical guys in Adidas jumpsuits. This outrageous skit apparently takes inspiration from real life, though – some students feel as though an absurd amount of guys dress in the same manner.
"Guys dress in either one of two ways: cool and sportsy, or insanely fashionably" senior Samantha Santiago said. "No matter what, I don't see them going for anything other than casual trends."
Regardless of whether or not casual trends can truly be "cool" – which Santiago believes to currently include high socks paired with cargo shorts and a floral shirt – men rarely stray from their comfort zone for the purpose of creativity. It is almost a societal obligation for women to dress their best – however, men choose to stay at the simple end of the daily attire spectrum.
Enter the local students of Oviedo, who challenge what they believe to be the precedent set for men.
"Unlike most guys, there isn't a word to describe the way I dress," sophomore Joesean Mercado said. "It's a unique mix of various styles."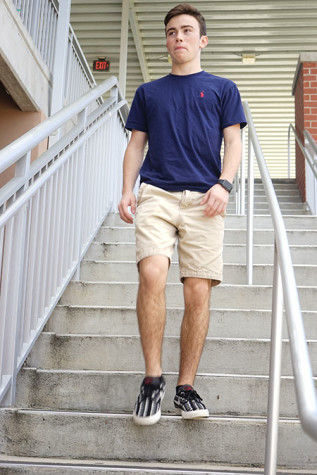 A trend allowing for the merging of multiple styles has begun to have a more noticeable influence on local students' clothing. Their ideas could be seen as a reaction to the concept of boring male outfits. Drawing heavily upon American sub-cultures, social status symbols and even the music industry has allowed many of the locals to fully realize their sense of style.
For most guys who would rather not go out of their way to plan an outfit, an easy way to remain "fashionable"  is with a simple formula: jeans and a t-shirt. Students who consider themselves well-dressed take these routines and add their own personal style to it.
"Whatever I wear, I make urbanized in a weird, streetwear kind of way" sophomore Jeovani Overstreet said.
Streetwear refers to a mix of recurring elements in upscale fashion like form fitting clothes and the more bedraggled, inner-city slum trends commonly seen in rap videos like oversized tops. The trend is popular in the fashion world, although it has yet to see a major push in the general community.
Overstreet regularly wears paisley print joggers coupled with a simple t-shirt, adorned with zippers on both sides, that runs longer than most. While the basic elements of outfits are present, Overstreet adds an additional hip hop aspect to it to personalize his attire.
The formulaic streetwear, which can be summed up with high fashion plus an inexpensive subculture, can be manipulated to form a variety of styles. For those who identify with a crowd more like that of skate culture, another trend emerges – which, according to sophomore Hayden Welsh, happens to be popular at college campuses.
Welsh, who is not appreciative of everyone's sudden affinity for the high athletic sock, wears ankle socks and tighter pants due to their "trendy" nature.
Welsh draws from elements of both skate culture, like fashionably tight Chino pants, and the sports-centric America, including Nike's Stefan Janowski shoes, to conceptualize his personal style.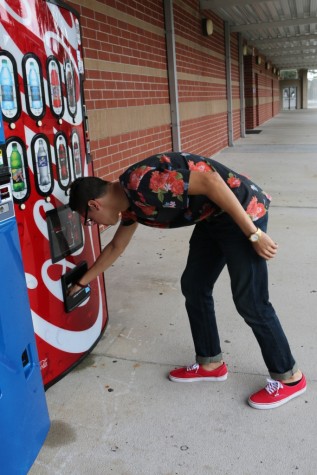 Fashion fanatics like Mercado find this disappointing, but an equally important factor in style is money. He spends a whopping amount on clothes when he has the opportunity.
"Right before school when I get the most amount of clothes, I spent almost $400 on all my outfits," Mercado said.
In addition, Mercado shops regularly at popular stores geared towards skaters such as Tilly's and Zumiez. Welsh finds himself enamored with contemporary fashion store Urban Outfitters, and Overstreet spends his time at Jimmy Jazz, a store that markets itself as "hip hop" clothing.
Overstreet outlined the streetwear etiquette as not valuing pricier items. Although, there are some clothing items he finds to be well worth their high price. While he feels his assortment of joggers, chinos, and long-line tees set him apart from most men, he considers a few brands to be perfect examples of the style he wants to emulate.
Overstreet said he would spend a massive amount of money on jackets designed by Hood By Air, a brand widely recognized for its innovative design.
Overstreet finds three brands to be a necessity for him to do justice to his style as well.
"Hood By Air, Black Scale and Rick Owens are probably the best designers actually worth their price," Overstreet said.
If he had the money, Mercado said he would spend almost $1000 on the widely coveted self-tying Nike Air Mag shoes featured in Back to The Future , while Welsh said he would purchase Kanye West's low top Yeezy Boosts shoes. Just like Overstreet, they believe it would further cement their place in the world of streetwear.
Not all of Oviedo has been so quick to accept the influx of new styles. Cargos, basketball shorts and the Payless shoe store edition of Vans and Nikes are still prominent around the high schools, according to Welsh.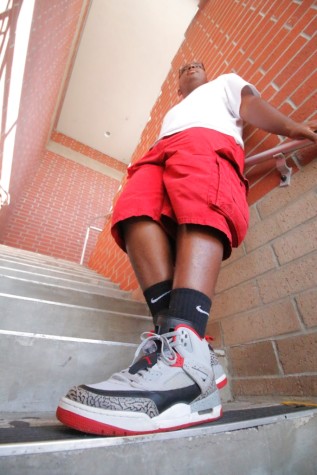 For some fashion fanatics, their surroundings are irrelevant either way; they feel the most important input in attire comes from within.
"It's important to look the best no matter where you go. Your clothes are a reflection of you in the sense that you're the one who crafted it, whether it looks good or bad," Mercado said.
Items featured in the story: