photo by Skyler Glenn
The Knot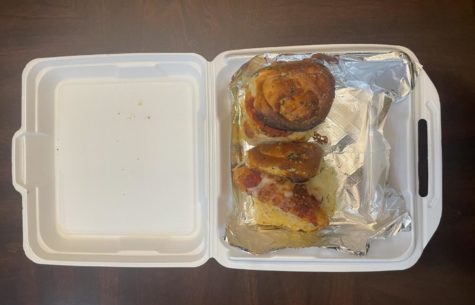 Price: $14 | Average Rating: 9.25/10
Our next stop was The Knot, and this truck was packed with creativity and flavor. Specializing in their garlic knot sliders, The Knot had eight different flavor options, ranging from buffalo chicken to Italian. We chose to test out their chicken parmesan garlic knot sliders, and they did not disappoint.
Nadia: This box stayed nice and hot, pouring out steam when we finally got home. The knots were covered in garlic topping and mixed with the marinara perfectly. Although these knots were definitely greasy, the flavors and textures outweighed the mess. These knots make the perfect light meal, leaving you satisfied with no bloating. Overall, I gave these knots a 9.5/10 for their creative cuisine and great flavor blends, and would definitely go back to try the other flavors.
Skyler: I was pleasantly surprised by The Knot. I didn't think they would be able to pack much flavor into a garlic knot slider, but they proved me wrong. The chicken was well-seasoned and cooked well—much better than the Fully Loaded burger. The marinara sauce tasted great, and there was a perfect amount of it. The garlic knot itself was crispy and had a little bit of a crunch to it, which I loved. My only complaint is that it was a bit greasy, but not to the point where it took away from the flavor, so I give it a 9/10.
Donate to The BluePrint Online