"7 Women and a Murder"…and not much else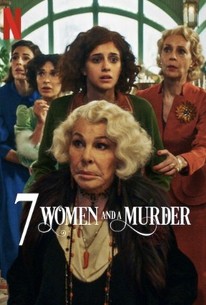 A winter storm, a murder, an old mansion and seven women unknowingly trapped together. How could it possibly be boring? 
Released on Dec. 25,  "7 Women and a Murder" seeks to answer that question by taking an intriguing premise and turning it into one of the most poorly executed films of the year. 
Attempting to achieve something like an old-fashioned murder mystery, this movie places seven women in their house, trying to determine which one of them is responsible for the death of their family patriarch. They soon discover that they are unable to leave the grounds, and the audience is condemned to watching them bicker for the next hour and a half.
For the first few minutes, it shows some promise, as the Italian language that it is recorded in (there is an option for English audio, or it can be watched with subtitles) and the beauty of the house where it takes place give the setting authenticity.
However, the movie is quick to lose any interest it might have captured, introducing shallow, underdeveloped characters who value their beauty and wealth more than anything of true importance. They are also lacking in any discernible personality, which makes it difficult to become invested in their story.
The plot is just as disappointing as the characters, as it implements half-hearted "twists" that fail to be shocking. The "big reveal" at the end is not very surprising or dramatic, and there is little that leads up to it, as most of the film consists of the women running around a house and screaming every time the lights flicker.
Much of the acting looks forced, and many movements appear too scripted, such as when the women turn their heads with exact timing or move in a clump. Perhaps this could have added a bit of much-needed humor, were it embraced as ridiculous, but the characters take themselves far too seriously. 
The film does have one redeeming quality: the overall constant drone of speech and background music is pleasing to the ear, so if you are seeking an opportunity for a quick nap, it might be worth turning on "7 Women and a Murder" for a chance to catch up on some sleep.
Donate to The BluePrint Online
Your donation will support the student journalists of Hagerty High School. Your contribution helps us publish six issues of the BluePrint and cover our annual website hosting costs. Thank you so much!
About the Contributor
Lia Miller, Opinions Editor
Lia Miller is a sophomore at Hagerty High School and this is her first year on staff. Lia enjoys reading, writing, and listening to music. She also does cross country and track and field.