Football tackles perfect record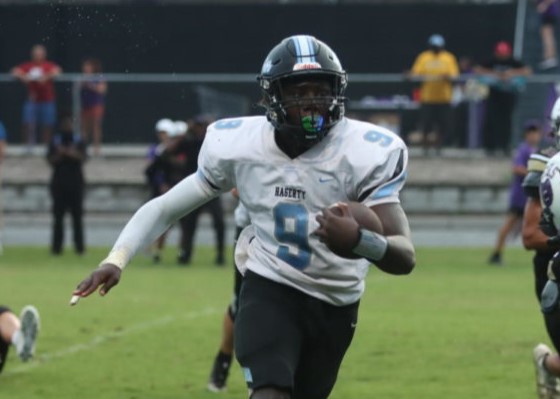 The varsity football team was up 10-0 against Timber Creek, a team they lost to last year 41-7, with two minutes remaining. A fumble had given Timber Creek possession at the 30 yard-line, and it looked like the team's undefeated streak would come to an end. But the defense stayed solid, and stopped Timber Creek four times in a row, holding on for the win, and the student section rushed the field to greet the team and celebrate the big win with them.
As the team transitions into the middle of their season, they are sitting 5-0 with wins against University (28-7), Winter Springs (48-0), Timber Creek (10-7), East River (45-7) and Harmony (24-3). Starting off the season undefeated is a first for the program. The team is feeling confident as ever right now; everyone is full of excitement and the team's dynamic is the best it has been in years. 
Mentally the team feels that they are more locked in and focused than they have in the previous years. 
"The mindset of everyone is different this year, we all want to win, and everyone is willing to do what it takes to win. We are more hungry this year; it is our goal to make it to the postseason," corner Michael Byers said. 
The defense has been exceptional, limiting teams to at most seven points. Although the defense is stronger than last year, there are still improvements to be made, according to corner Issac Konz.
"The coach provides us with great defensive formations and plays, but we still have room to improve and with time, we all will improve and keep executing the plays better than we did the day before," Konz said. 
Wide receiver Zamien Oden has 20 forward yards, one fumble recovery, one touchdown and was selected as the defensive player of the game against East River. Kicker Erwin Eberhardt has five kickoffs and one touchback. 
On the other side, the offense has been performing well. Quarterback Anthony Benzija has been consistent with his throws so far this season. Throwing 7 touchdown passes, and he has a total of 514 yards. 
"Our throwing game, and especially our running plays have been really good. If we keep playing like this we will for sure make it to the playoffs this year," wide receiver Chance Bennett said. 
Wide receiver Caleb Barber averages 23 receiving yards per game, and Bennett has an average of 47.2 receiving yards per game. Bennett is ranked third overall on receiving in the district. 
The team's record is 5-0, but they are aware that the second half of their season is going to be tough. They still have to play Winter Park on Oct. 17, who beat them last year 41-28, and Oviedo on Nov. 4, who also beat them last year 43-14. Their game against Harmony High School went well, they secured their fifth win of the season, adding on to their undefeated streak. Although there were weather complications due to Hurricane Ian, the week before, the team still felt prepared going into the game Friday and the rest of the season. 
"I was looking forward to playing Harmony. They are a good team, and that win will help us with the playoff standings," Benzija said. 
It was not an easy win for the team, the defense was fighting all game and helped bail out the offense numerous times. 
"I thought we played well, our defense did a great job against Harmony," Benzija said. "It was their homecoming game so it was very loud and the tension was high, but we still pushed through and won." 
The offense did not play their best game, but they still helped contribute to the win. Benzija threw a touchdown pass to wide receiver Ian Miller, which put them ahead 13-3 in the bottom of the first half. Running back Jeremiah Williams scored on an eight yard run, and wide receiver Vaughn Poorman added with a two-point conversion. 
After adding to their undefeated streak the team looks ahead to their game against Colonial on Friday, Oct. 14. Hagerty beat them last year 35-7 and looks forward to doing so again, before playing Winter Park on Monday, Oct. 17. 
Playing two games within three day is going to be tough for the team, especially since Winter Park will have had a week and a half of rest before playing them on Monday. 
"Winter Park is going to be a tough game, they usually always are. As long as we stay focused and ignore the outside noise, I think it will be a good game," Byers said.
Since the team only lost a few seniors last year, the majority of the team are returners. Being able to play with the same group of guys plays an important role in team chemistry. Chemistry has been one of the team's biggest attributes this season. 
"Being a senior heavy team provides us with lots of experience, which has been one of our strengths this season," head coach Steven Mikles said. "When you have players that have been around each other for a long time, it can lead to having really good chemistry, which leads to believing in the coaches and each other." 
Donate to The BluePrint Online
Your donation will support the student journalists of Hagerty High School. Your contribution helps us publish six issues of the BluePrint and cover our annual website hosting costs. Thank you so much!
About the Contributor
Karson Cuozzo, Sports Editor
Karson Cuozzo is a senior at Hagerty High School, and this will be her third year on staff. She is the sports editor, and her life revolves around sports. She competes in varsity softball and wrestling.