Boys soccer makes historic regional run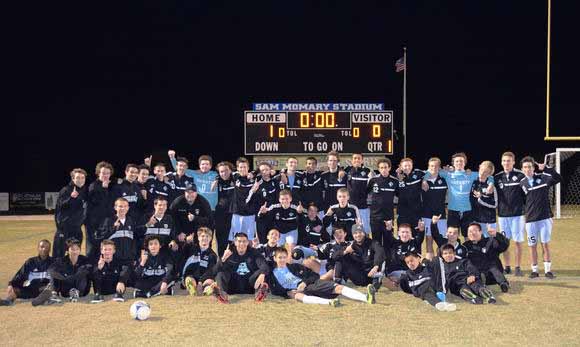 "Everyone just started screaming, no one really thought; we just ran and dog piled. It was a great feeling," senior Kyle Ings said.
With just over three minutes left in the second overtime of the district semi-final against Winter Springs, senior Nathan Tardrew scored the winning goal that sent shock waves through the entire field.
"I just stood there for about four seconds. I couldn't believe what just happened," senior goalie Andrew Reilly said.
After boys soccer took the first district win in school history, they followed up with this semifinal last-second win. With that win the team earned an entry to regionals, uncharted territory for boys soccer.
The soccer team has a lot of reasons to be surprised. Season after season had ended in disappointment. Last year exemplified that with a 3-13 season.
"To be honest, [last season] sucked," sophomore Ryan Dooley said. "A lot of times I thought we could maybe win this game but then we would get crushed."
But this year the team completely turned it around and finished 10-3-5, nearly flipping their losses with their wins.
The change was clear from the start as the team destroyed Colonial High School 8-2 in the season opener. They also had big wins over Seminole, 6-2 and at New Smyrna 5-1.
"[The wins] got everyone fired up. We weren't used to winning, and winning those games got everyone really pumped," Tardrew said.
A big reason for this turnaround was new coach Mike McAvoy. He implemented a system unlike other seasons and was filled with enthusiasm. He used shorter yet more demanding practices, brought fitness to a higher level of importance, and also communicated to players on the field.
"I was really apprehensive at first, but coach McAvoy has been a better coach then I hoped he would be. He has really brought this team together and made us successful," Reilly said.
Aside from coach McAvoy, this year's team had 11 seniors, including lead scorers Tardrew and Alec Sarcevic, who each scored seven goals this season. The team's four captains were seniors, and so was star goalie Reilly, who had a total of six shutouts this season, two of which came in the playoffs over Lake Mary and Winter Springs.
"What makes the shutouts possible is mainly communication between me and my defense. Communication is really big for the team but especially the defense." Reilly said.
The team relied more than just seniors to step up during big moments. One of those players was sophomore Jake Brinker, who led the team with nine assists. Another was sophomore Dylan Chopra who served as the last line of defense on the team.
"We have a lot of returning players and that brings a lot of experience to the team," junior Charles Lynch said. "They have matured and have been working in the offseason, they've gotten a lot better."
The teams historic season ended on Jan. 30 when the team was defeated by West Orange in the regional quarterfinal, 3-0. But this team's effect is nowhere close to gone, the 2013-14 varsity boys soccer team owns the best season in school history.
"It feels great and I look forward to seeing in the future years Hagerty's success. It was good to turn around the boys soccer program," Ings said.