Strickle jumps into third at state meet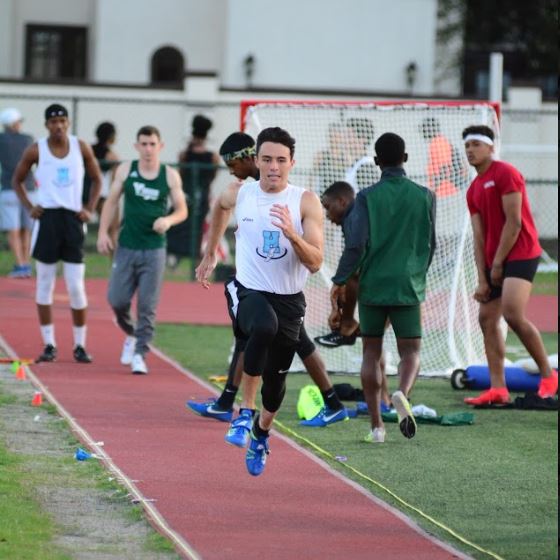 TR - Jacob Strickle finishes 3rd in the Long Jump at the FHSAA State Finals with a jump of 6.85m (22'5.75"). Go Huskies!! pic.twitter.com/CJJYtPF1C1

— Jay Getty ("HagertySports) May 4, 2018
After a sixth place finish at the 4AR1 championships, most people would not be moving onto states. Typically only the top four advance, but this is not the case for jumper Jacob Strickle. Although he placed sixth, he secured one of the eight at-large bids and qualified for the state finals at the University of North Florida. He is the first long jumper in school history to qualify for states.
"I was excited [to qualify] and it was good to know that all the hard work paid off," Strickle said.
At the end of his first three jumps, Strickle secured one of the nine spots in finals. He was in eighth place after his first jump and since he had been jumping early all day, he knew he had to focus on jumping on time.
"After my first jump in finals all I could think was go all out because I needed to in order to move up in the ranks," Strickle said.
As Strickle jumped off the board in his second jump, he knew this was one for the books, and it was. He jumped 6.85 meters or 22 and a half feet, just under a personal record, and jumped up five places in the rankings to third. After everyone jumped their third and final jump, no changes in the top eight were made and Strickle's third place finish was secured.
The road to states was not an easy one, though. After Strickle won districts in the long jump, his dad got a promotion and the ceremony was scheduled the day before regionals was to take place. Strickle went to the ceremony in Washington D.C. and flew back down and immediately headed to regionals.
"It was kind of a chaotic week," head coach Matthew Malkovich said. "He came in ranked 19th and we didn't think it was accurate do to what he jumped prior to regionals. We talked and decided that if he could get top eight we'd be happy."
After his first jump of six, Strickle was still in 19th, but his second jump was the one that pushed him into eighth place and a spot in finals. Strickle capitalized on the positioning and put everything together from all four years of training, and jumped very close to his 6.86 meter PR which secured a third place finish.
"I still tried my best for my last jump because I could've potentially done better," Strickle said. "I got a really big boost of confidence from having a good second jump so I went all out."