Boys volleyball season sets off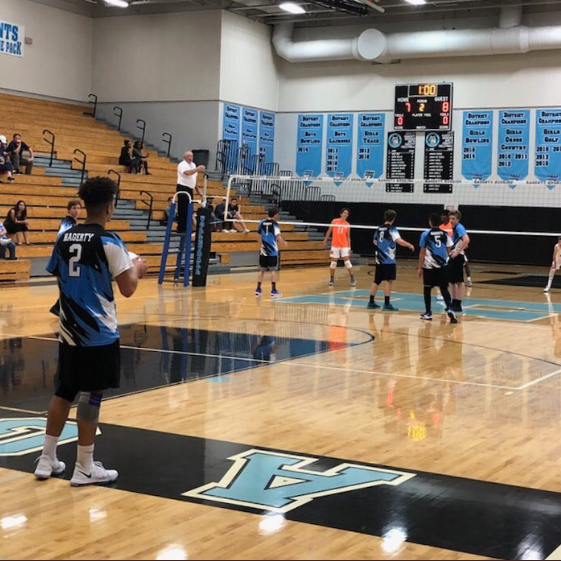 Coming off of a 10-4 season, the boys volleyball team has high hopes for improvement as the season begins. The team is currently 2-3 with losses against second-ranked Lake Mary, Timber Creek, and Oviedo, all three 3-0. Although they lost three, the team has shown signs of light early in the season, coming back from down 2-0 against Seminole, then winning 3-2.
"We battled back and brought all our energy," middle Nicholas Hurley said. "They got tired and we just kept on going and we ended up winning."
That win propelled the team to a 3-0 blowout win against Crooms, a much-needed confidence booster before playing conference leader Lake Mary the next game.
"After the game the team had really come together, and some guys who had never played before got to play," Hurley said. "I think they got the biggest boost out of everyone, getting to play their first game on varsity was an exciting moment for them."
Although the team knows they can beat smaller teams like Crooms, they tend to struggle against powerhouse teams, something they must work on to make a playoff run.
"We practice every day we don't have a game, and we have old players coming in to help us when they can," head coach Sarah Jarem said. "We make sure we talk about our opponents before we play them which should help in the future."
Lake Mary is the toughest opponent on the team's schedule and even though they lost 3-0, the scoreboard does not accurately portray the team's performance.
During the third and final match, the team had a sudden spark of energy and was in the lead for a few points, even though the score remained relatively close. Setter James Gray and middle Mark Nelson recorded two straight blocks during one rally to gain momentum against Lake Mary. From that point forward, Lake Mary made constant mistakes from out-of-bounds spikes to hitting the ball into the net. Lake Mary would comeback, however, and won the third match 25-18. Outside hitter Victor Jerez would led with five kills.
"It was a good learning experience for us through the first match and second match," Jerez said.  "It was a good opportunity to face off against one of the best teams in the state."
The Lake Mary game was not the first time the team showed progress. In the match against Seminole, the team trailed 2-0 and as the third match began, the team knew they were in a must-win situation. Led by Jerez' 16 kills and Gray's 12 digs, the team was able to come back and win the game 3-2.
"Our coaches always say, 'the louder, more confident team will win', even if the opponent is a skilled team," Hurley said. "We take pride in our confidence and ability to stay loud; it's one of the things we do best."
The team will look to bounce back from their previous losses at home vs. Spruce Creek on Tuesday, March 27, and has hopes for a playoff run later in the season.