Clawing its way to the top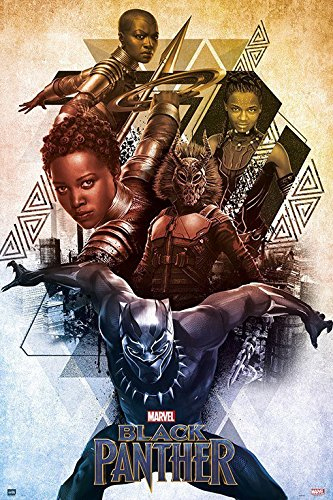 Intense action, suspenseful crime, and a heroic superhero: the formula to an amazing Marvel movie. However, Black Panther goes beyond all this to create the best movie of the year.
The main setting of the nation Wakanda is not only beautiful but awe-inspiring. Adding breathtaking culture to the city made Wakanda the most irresistible location to appear in a Marvel film. The color, the music and the outfits transport the viewers to another realm, and the fascinating backstory of the city and tribes will immediately grab anyone's attention.
This movie contained a gorgeous cast, from King T'Challa the Black Panther (Chadwick Boseman) himself, to the warrior general Okoye (Danai Gurira). Their actors did such an amazing job at portraying their character's personality. When the warriors were fighting in the final battle scene they were especially convincing, using intense facial expressions and passionate voices to convey a willingness to protect their country.
The most endearing part of Black Panther was the connection to family. Viewers can easily relate to the characters', whether it be Erik Killmonger's (Michael B. Jordan) abandonment or Black Panther's internal struggle of obeying his father, T'Chacka (John Kani).
Black Panther, like most Marvel productions, does require the viewer to follow too closely as characters reveal more about themselves, unlocking keys to the story line. All the characters are presented in the beginning of the movie, which may confuse those who are not familiar with the comic storyline; however, it is easy to follow along once viewers get a good way into the film.
The movie has many angles that motives and reasonings are very clear. Learning the background story of each character softens a place for them in everyone's heart. Even the villain, Killmonger, was hard to hate on.
The plot can be interpreted in many ways. Racial issues and political views are addressed, but in a very low light so that viewers can take from it what they wish. There is a very obvious call-to-action in the movie, however, that fits in perfectly with February being Black History Month.   
Somehow Marvel has outdone themselves again in a movie that will be impossible to forget. Pounce on this opportunity to view Black Panther in theaters.