The price of sports
Athletes face injuries preventing them from the sports they love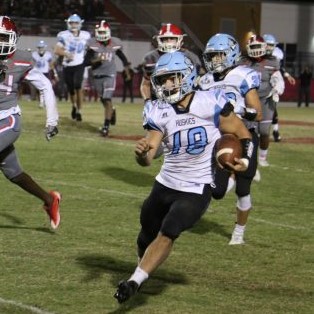 The football team held a lead in the District game against Edgewater, and running back Oliver Hart was feeling confident. They were driving on them to score and win the game, and within minutes, his knee was injured, the ball was fumbled, and the team lost the game.
"When I got hit I instantly knew I was injured. I heard a pop, and pain shot up my leg," Hart said. "I've never been in so much pain in my entire life; it's my senior year and all that was going through my head was that I would never touch the field again."
Hart tore his ACL, MCL and meniscus, and it will take about six to eight months for him to be fully healed. He has taken steps to recover through surgery and physical therapy sessions in addition to a support system that has made the struggles he faces a little bit better.
"My mom has been with me the entire time," Hart said. "I [also] have good friends and good support so I've been getting out and it's helped my mental state a lot."
Similar to Hart, junior Jordan Gilbert, another starting running back, also tore his ACL, MCL and meniscus. During the game against East River, an opposing defender dug his helmet into Gilbert's knee while his foot was planted in the ground causing the ligaments to tear.
His injury occurred slightly earlier than Hart's and caused him to be out for the rest of season.
"It was tough for me knowing that I had to sit out and I couldn't do anything to help my teammates," Gilbert said.
According to stopsportsinjuries.org, high school athletes account for 2 million injuries a year, and student-athletes, like the ones here, are willing to sacrifice it all to play.
Cross country runner Julia Plescha suffered from Slipping Rib Syndrome, an inflammation of the cartilage between the lower ribs causing them to slip and move. The pain extended to the right side of her back causing it to be tense and also making it hard to breathe.
"I was running at practice and needed to stop and walk because I was in too much pain," Plescha said.
She dealt with the injury through taking anti-inflammatory medicine and making time to rest from running. Because of this, Plescha missed conference and district meets.
"I still wanted to run and when I tried to, it hurt," Plescha said. "[Other] struggles I faced were sometimes being in too much pain to move, especially after sleeping. It was hard for me to get out of bed by myself. "
Mostly healed, she looks toward track season where she will officially see if she should continue running or stop, but the pain from the injury might force her to leave the sport.
Like Plescha, center Martin Loh and dancer Molly Smith also got injured during practice.
Loh was playing basketball and collided with another player while shooting. When they landed, the player was on his ankle and when he tried to get up afterwards, he could not put any weight on the ankle.
He ended up spraining ankle ligaments on both sides of his ankle, making it difficult for him to play or even walk. The injury occurred about three weeks ago and he still faces minor pains but continues to push through and play on.
"Injuries are a part of basketball," Loh said. "I can't really remember a time that I have played and nothing has hurt."
For Smith, when she heard a loud crack in her knee at dance rehearsal, she automatically knew that something was wrong.
She ended up dislocating her knee cap and having a broken patella and was in need of surgery.
"I have been in therapy for a couple of weeks," Smith said. "I am honestly so blessed, because this could have been so much worse."
Most athletes, like defender Sophie Aguilar, participate in clubs or leagues outside of school sports in order to get conditioned or work on their skill set before playing for the school.
Aguilar was playing in one of her club soccer games when she collided with an opposing player and twisted her ankle while falling down. Thinking that it was just a sprain, she only took a week off and gradually began playing again, since the high school season was starting.
While playing in a high school game, she hurt her ankle again and finally went to get an MRI. She found out that she had an Osteochondral lesion, torn cartilage in an ankle joint and fibula damage, causing her to be in a boot for seven weeks.
She has been going to physical therapy every week and also uses an athletic band to do ankle exercises every night.
"Hopefully, this can prevent me from injuring my ankle again," Aguilar said. "It has been hard because I'm in a boot for so long and I just want to start playing soccer again."
Whether it be in practice or games, athletes face physical and mental hurdles that they must overcome. The effects that come with being a part of sports can be with them far past their high school years, but for some of them it is a price that they are willing to pay.
"[Being injured has] affected me a lot emotionally and it's been one of the hardest times of my life as a teenager and as an athlete," Hart said. "I've given my life to sports my entire life and for them to just be taken from me like that makes me sad."
To view the amounts of injuries per sport, click on the specified color from the pie chart.