Butterfly garden dedicated for VE class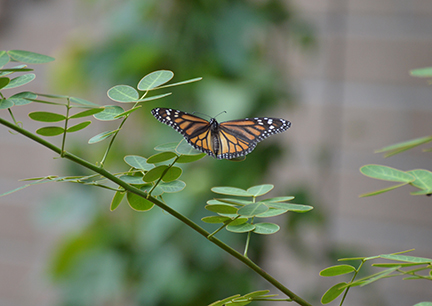 After a summer of visible changes from power-washing to painting, one change in the school might have gone unnoticed between buildings 6 and 7.
On Friday, Sept. 1, however, a dedication ceremony was held to open the butterfly garden for the Varying Exceptionalities class.
Destiny Massey, 2017 graduate, with the help of donations from the community, was able to make this garden come true. Massey, who "just loves butterflies," created this garden for her Girl Scout Gold Award project. With this she was able to get the mayor of Oviedo, Dominic Persampiere, to come out and cut the ribbon of the new garden.
"As the mayor of this city, you get invited to a lot of events, but this one I had to make it," said Persampiere. "It's just so important when you have a girl like Destiny that puts her heart and soul into this garden for the kids in the middle of an urban campus. It's just great."
The butterfly garden was dedicated to the VE class in honor of Charmin Underhill, Massey's friend's mother, who passed away due to cancer.
This event showed the VE students that it was their garden, and they will take care of it and learn from it. The students will water the plants, take out the weeds, pick up any trash and they will also be observing the different types of butterflies and learning how butterflies develop.
"Destiny has provided the kids with journals so that they can just come out here and draw and have some quiet time," said VE teacher Tammy Harris.
Principal Mary Williams, who attended the event, loves to see when students realize their responsibility, to give back to other students and to the community.
"I love to see the kids stretch themselves to do such great things not only academically but also for the school's community," Williams said.