Graduation parties occupy seniors' last weeks of high school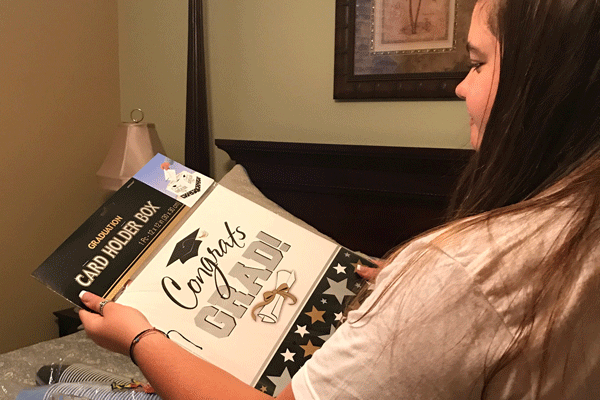 AP exam weeks are filled with stress, studying and Facebook notifications as invitations to graduation parties flood in. While classes wind down, many seniors pick up a new project: party planning. The road to graduation is long and complicated, and the parties that celebrate it require just as much attention.
Scheduling is a complicated business, especially for seniors who share friend groups. To solve this problem, seniors Kristen Edwards and Madison Barrett decided to host a graduation party together.
The two bounce their ideas off one another.  For example, when Barrett thought it would be a good idea to have a bounce house, Edwards reminded her that their guests might not want to mess up their hair and makeup.
"We haven't really argued about anything, which is great.  I guess it's just because we're so happy to be having it together," Barrett said.
Senior Stephen Pitters took a different route, opting to hold his party from 2-5 pm because several other seniors hold parties in the early afternoon or later at night.
Pitters also has intricate plans for decorations.  He wants to decorate the inside of his house with Ha colors and the outside of his house with University of Miami colors, as that is where he will be attending in the fall. Decorations do not have to be expensive; Pitters has only spent $40 so far by shopping at the Dollar Store for supplies.
Senior Alexis Hancock has spent about $100 on decorating her house for the event but is also including a candy bar where guests can get their sugar fix.  She, along with Barrett and Edwards, is planning on having some sort of photo booth for guests to remember the party.
A party can get dull with just food, so Pitters planned an activity for his guests to do.
"I'm thinking about getting notecards and having people write some advice or good thoughts for the future so that maybe when I'm in Miami and feel homesick I can look back on them," Pitters said.
Barrett and Edwards are going to have a book where guests can record their favorite memories and a slideshow of pictures of them through the years.
Food is also a necessity, so many seniors look into catering.  Pitters is considering Chipotle, but Barret and Edwards want something with pasta, so they are still looking.  Hancock will be serving taco dip, a recipe from her great grandmother .
"It's an amazing family recipe. You have to come early if you want some," Hancock said.
Some, like junior Alyssa Caples, who was invited to 12 graduation parties, are unsure of what to bring.  Most seniors do not expect gifts from fellow students, just those they are close to.  Most want cash, but Pitters wants something sentimental.
"If someone gave me something that symbolized our friendship, whenever I saw it, I'd remember that person," Pitters said.
For seniors attending multiple parties, most have to form some sort of algorithm to determine what they give.
"If I've known you the four years of high school, then you'll get a gift," Hancock said. "If I've only known you this year and have only talked to you three times, more than likely no gift."
Caples will be attending as many parties as she can over the next week, but she has a strategy.
"My plan is to take notes for next year.  What kind of food do they have? Which party did I like the best?" Caples said.