Ballz is life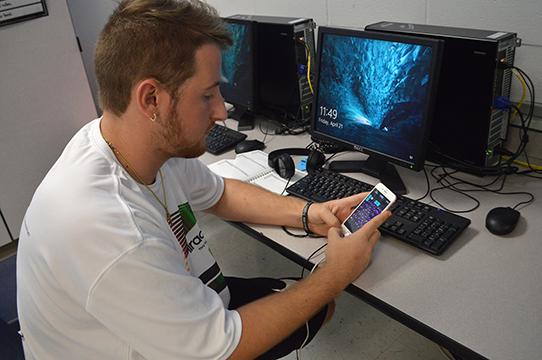 You are sitting in class bored out of your mind. You have already checked all your social media, waiting for the bell to ring. You wish there was a new addictive game to play like Flappy Bird or Trivia Crack that would make time go faster. Well, that game is Ballz.
Ballz, originally released on Feb. 18, reached its popularity in April, as it became the number one game in both the Google Play and the Apple store. The game models the arcade classic, Breakout, where the goal is to use a ball to break through layers of tiles. Each tile has a number on it that must be hit that amount of times in order for it to break. If any tiles hit the bottom of the screen at any time, you lose.
Even though the game became popular this month, junior Aiden Quiles started playing the game during spring break when it was not even a top app at the time.
"I heard about [Ballz] from my friends and the fact at how challenging it is made me so addicted to it," Quiles said. "It's a good game to play, especially when you're bored and have nothing to do."
Although the game's developer, Ketchapp, is not well known, this is not the first time they have had a top game, as games such as 2048 and Don't Touch the White Tile both held number one spots in 2014.
According to the game's description on the Apple store, Ballz is nicknamed the champion of time killer. Senior Jasmine Morris, the goalie for the girls water polo team played the entire bus ride to the state quarterfinal matchup against Hialeah, Miami on April 7.
"We had four hours of free time on the bus, so we all played it, including our coach, and became very addicted from there," Morris said.
As the game resembles the addictive qualities that Flappy Bird in 2013 and Trivia Crack in 2015 once had, sophomore George Boring believes Ballz only relates to one of the games.
"I'd rank it about equal with Trivia Crack," Boring said.  "Flappy Bird was just really annoying, but with Trivia Crack, you could play against your friends all day, and Ballz has the same effect."
Unlike Flappy Bird and Ballz, Trivia Crack proved to be educational by asking questions in categories, such as history, science, and geography. However, senior Robby Boyer believes there needs to be knowledge in order to be proficient at Ballz.
"There's definitely physics involved when deciding how to angle the balls to hit the boxes," Boyer said. "It's a challenge, and it makes you think."
Ballz's description on the Apple store says the game is very easy, but it is hard to reach high score. Quiles believes he has achieved one of the highest scores in the game already with 912.
"I believe I'm the best Ballz player in the world, to be honest," Quiles said. "I feel like I'm actually good at something for once in my life. It's a big accomplishment."
However, Boyer, whose score is 1,314, disproved that statement.
"Anyone who has the game won't beat my high score," Boyer said. "I haven't lost in four out of the five weeks I've had the game, so I'm hoping to reach 10,000 soon."
Despite topping charts for only three weeks, Ballz will look to continue its addictive streak and be remembered just like Flappy Bird and Trivia Crack.
"I'm crazy focused and determined to have a better score than everyone else," Morris said. "It's a great game that everyone wants to be the best at and the only thing unfortunate about it is the name."