Reflections students advance to state level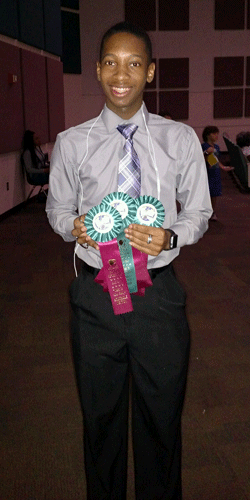 This year's annual PTSA reflections contest resulted in winners in multiple categories at both the school and county level.
"The arts, and the National PTA Reflections program, support student success and serve as a valuable tool for building strong partnerships in our school community," PTSA reflections chair Teresa Neris said.  "For the 2016-2017 school year, Hagerty had 9 winning submissions that advanced to the Seminole County competition."
Sophomore Da'Zhaun Hicks won awards for his entry in Dance Choreography, "I'm 2RU," his Literature piece, "I made it- My story," and his entry for Music Composition at the school level, he also won Dance Choreography and Literature at county level.
His Music Composition piece, entitled "This is 2RU," received an honorable mention at the county level and advanced him to the state level of the competition.
Hicks spent about a week each to create his pieces for the competition, it was his first time participating in reflections. He goes by the stage name 2RU, pronounced like "true".
Other winners include Zoe Jackson for literature, Emily Canamella for Dance Choreography, Visual Art and Photography and Makenna Lehmann for Photography. All county winners will advance to the state level, where they have a chance to make it to the national level of reflections.
They recently celebrated their wins at the Seminole County PTA Reflections awards ceremony and vendor event at Winter Springs High School.
Next year's theme will be "Within Reach," and anyone can enter.
"For everyone who is inspired by these talented Huskies, it's not too early to start thinking about next year," PTSA President Paula Reidy said.