Girl lacrosse conquers Lions for first time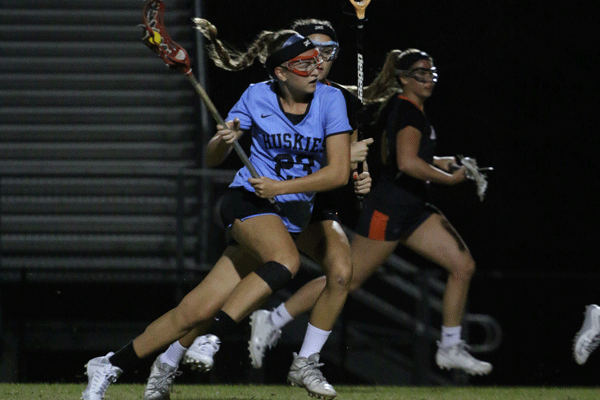 After a close game, the varsity girls lacrosse team beat Oviedo for the first time in school history on Wednesday, March 1, making them the only undefeated team in the district with a 5-0 record.
The score remained tied for the majority of the game, with neither team leading by more than three goals.  Midfielder Annemarie Cox scored the team's first goal of the game, leading to a 1-1 tie.  Subsequent goals from midfielders Katie Williams, Joslin Hanbury, MaKenna Lehmann and attacker Jessica Vasquez led to a 5-5 tie later in the first half.
Nearing the end of the first half, goals from Vasquez and attacker Chloe Gallant put the team at a 7-5 lead.  The Lions scored and the team responded with two more goals, making the score 9-6.  After a timeout, an interception by Williams led to another goal by Gallant in the final moments of the first half, which was met by another goal from the Lions, with the team still winning 10-7.
Early in the second half, the Lions made three goals, tying the game once more.  Goals from attacker Reagan Pomp, Hanbury and Cox put the score at 13-10, but the Lions came back with another two goals.  With less than three minutes left in the game, the Lions tied up the game at 13-13, but a draw control from Williams and a goal from Vasquez solidified a win with just seconds left on the clock.
"Beating Oviedo is something I've wanted to do since freshman year," Vasquez said. "For the seniors, it's a huge relief.  We went out with a bang."
Goalie Tess Marvin was honored with the team hardhat at the end of the game, which is given to players the coaches felt contributed significantly to the game.  Marvin prevented three attempted shots in the last minutes of the game and will get to keep the hat until the next game on Friday, March 3 against Bartram Trail at home.
"[This win] was significant, but what you learn is just to continue to find a way to make it through tough games and find a way to win in the end at future games," head coach Mitch Whittington said.