Debate club attends national competition at Harvard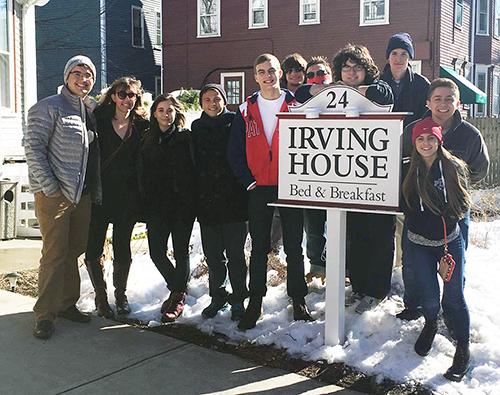 On Friday, Jan. 17 through 21, the Debate team attended the annual Harvard Invitational in Cambridge, MA, the only out-of-state competition where team members get to be judged on a national level.
The tournament has been a 12-year tradition, costing about $700 to attend, some of which was raised by hosting spirit nights and collecting donations.
The club stayed at Irving House, close to the Harvard campus, and also got to tour Cambridge and visit historical sites such as Faneuil Hall, Quincy Market and Harvard Square.
During competition days, Saturday and Sunday, team members participated in debating events such as Lincoln Douglas and Public Forum, where students write cases for cons and pros on certain topics and argue for one side. Students were also able to be part of  interpreting events, where students had to perform a script, and Congress, where members had to debate bills. Those who advanced to the next round attended finals on Monday.
"This year was our best year yet, since one of our members made it to quarterfinals," adviser Julie Love said. "We usually go in not expecting too much because we know our competition is tough."
Sophomore Michael McNamara was able to break into quarterfinals in Congressional Debate, being the first member of the club to reach break-rounds on the team, placing fifth on the preliminary chamber.
"It's not so much about making someone look bad as it is making you look better, and I think I did that really well for the judges," McNamara said. "The competition was tough, which made the debate tougher, but I was prepared for it, making it to the top five."
After competitions, the team ended the trip with a team dinner at an Oyster House, where they got to recap tournaments and discuss their experiences in debating events.
"The trip allowed us to grow closer together, making it a trip I will remember for the rest of my life," senior Justin Sasso said.