Robotics undefeated at states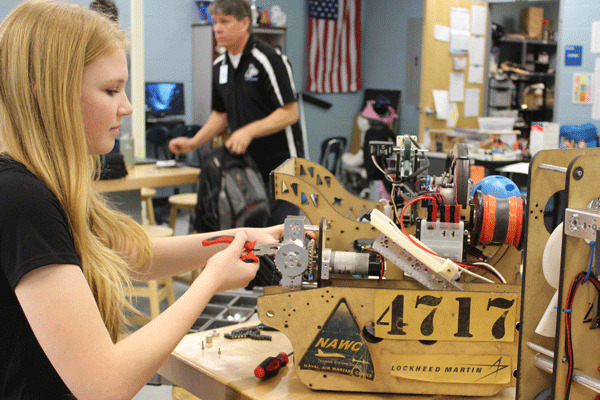 After weeks of preparation, robotics team 4717, The Mechromancers, went undefeated in every event at the state championship in Davies, Fla. on Saturday, Feb. 25 and advanced to Super Regionals.
The team won all six of their qualifying rounds, then went on to dominate in every one of their elimination rounds.  They were the only team to go undefeated at the event, putting them in first place.
Matches were judged based on the team's control of their robot on their engineering notebook, where they keep track of the robot's progress throughout the year.  In the semifinal and final rounds, the elimination rounds, the top four teams got to choose alliance teams. The Mechromancers picked Team 7477 and Team 2845, which led to their success in the last rounds.
The team had hoped to win an secondary award, and in addition to taking first place, the team also won the Rockwell Collins Innovate Award for their unique robot design consisting of wood and 3-D printed materials.
"While it was happening, we were in disbelief because nothing like this has ever happened to us before," senior Tori Guise said. "Afterwards we were just really thankful to have gotten to participate and that it went so smoothly for us."
Super Regionals will be held March 23-25 in Athens, Ga.