Soccer vindicated with win vs. Brantley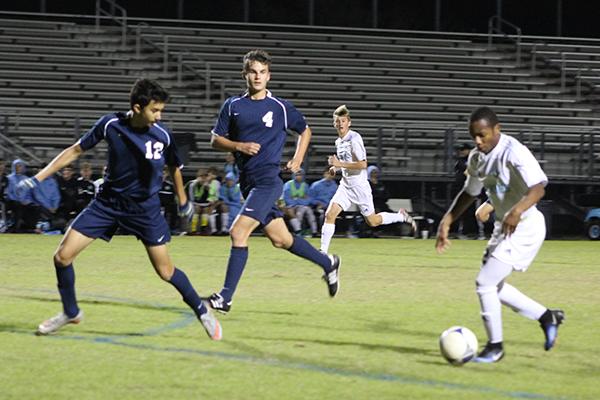 This time a year ago, the varsity boys soccer team was reeling from an upset, a 1-0 home loss to Lake Brantley, eliminating them from the district tournament.
This time, the team achieved vengeance and thumped Brantley, 8-0, moving them forward in the SA District 3 Tournament.
"It was a solid performance all around," defender A.J. Adams said.
The team dominated the game offensively, with Adams and forward Scott Benoit scoring two goals each while midfielders Juan Gomez, Jordan Snoap, Nick Moreschi and John Ballantyne had one goal apiece.
With this victory, the team maintains their undefeated home record, where they have outscored their opponents, 59-5.
"I think we [made that happen] due to our hard work and teamwork," Gomez said.
Despite the team's success over the course of the season, head coach Michael McAvoy remains optimistic, but is not taking anything for granted.
"[The team] just needs to communicate better and help each other," McAvoy said. "We've got a couple injuries and if they can get healthy, we're [going to] be a dangerous team."
The team travels to Lake Howell this week for a district semifinal match against Lake Mary, which will kick off at 5p.m. on Wednesday, Jan. 25.
"I think we have a good chance against Lake Mary; we've beat them before, we can beat them again," Gomez said.