Basketball storms past Celebration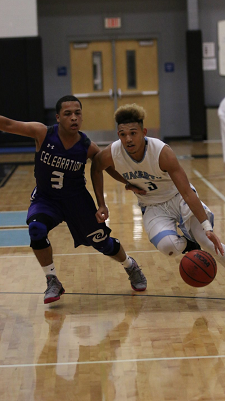 After losing the first away game of the season to Winter Springs, 62-51, on Wednesday, Dec. 14, the team had to get back on track and did just that against district opponent, Celebration.
On Thursday, Dec. 15, the varsity boys basketball team defeated the Celebration Storm, 70-44, to improve their regular season record to 3-1. Forward Will Faulk led the team with 19 points.
"Even though it stings to lose to [Winter Springs], it was only our third game," head coach Josh Kohn said. "We just have to get better going forward and that started tonight against Celebration."
At halftime, the team led 31-20 with 12 points from Faulk. In the third quarter the team pulled away, as center Joe Conley, Faulk and guard Vecarie Pettis opened the quarter with three straight layups and guard David Vabishchevich nailed two three-pointers to end the quarter.
Last season, the team played Celebration for the first time and defeated them 54-53, but it was much more one-sided this time.
"Granted we did beat [Celebration] last year gave us confidence heading into the game," Pettis said. "I didn't know much about them, but we just went out there and did what we do best."
The win gives the team momentum heading into their game against cross-town rival Oviedo tonight at home at 7:30 p.m. Last season, the team lost their first match-up against them, 74-49, but won the second match-up, 69-66.
"In this game against Celebration, we don't really have a history with them, so it was an unknown for both sides," Kohn said. "However, we know a lot about Oviedo and to have the game at home I think gives us the advantage."