Boys bowling takes conference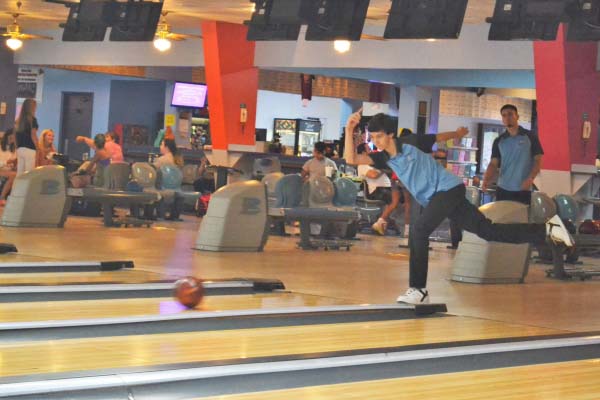 After losing top bowlers last season adding new coach, senior Ryan Sarcevic was worried that the team would not perform as it had be, because of those changes, but after an 8-0 start, any doubts were removed.
Boys bowling secured the conference championship with a 2139-1057 win over Lake Brantley with Senior Taylor Tiedge rolling a game high 209.  Even with adjusting to a new coach, boys bowling was able to have a 13-3 season record as conference champions, but this is coming off last season's successful 15-1 record and the district championship.  However, the team met and even exceeded some expectations with their performance, considering the talented seniors they lost and it was head coach Keith Coville's first year.
"There was an energy, there was a vibe, and I definitely felt that something good was going to come out of it," Coville said.
Because of its past success, Coville took a hands-off approach with the team, but did place an emphasis on setting the team's rotation.  Immediate success was found, when the team took its first victory against last season's district champions, Lyman, 2277-2264.
"I think Coville did pretty well in his first year," Tiedge said, "He had some experience bowling and recognized that we knew what we were doing."
Their strong start was punctuated by a victory over undefeated Winter Springs, in which Sarcevic bowled 268 and 245 games in the 2764-2310 victory which earned them a 7-0 record.  The team also had their highest and second highest scoring games, respectively, with scores of 1099 and 1070.
"I told them that we are in first place and they want to be in first place so let's own it with an exclamation point.  Let's just take it and never look back," Coville said.
After a victory over Lake Brantley, the team faced Lyman again, but was delivered their first loss of the season leading them to an 8-1 record despite a game high 296 from sophomore Eric Kevern.
"They humbled us. We took our first loss and we realized that the rest of the season was going to still take work," Coville said. "We weren't going to skate by, and it definitely took the boys down a notch."
The team was able to bounce back in the following game against Seminole with a 2254-1864 victory, led by sophomore Logan Furlong with 496 points.  Coville attributed the bounce back both to the determination of his team but also the leadership and consistency of his senior bowlers.  Tiedge considered Sarcevic the vocal leader between the two of them, but tried to lead by example.
The momentum did not continue though, as the team finished sixth overall in districts, but sophomore Logan Furlong was 10 pins away from making it to states as an individual.  Lyman was the winner for boys bowling.
"Everyone just relaxed and we know we missed a real opportunity to make states because our team has the talent," Furlong said.
Girls bowling finished second in districts with a team comprised entirely of sophomores and juniors.  Sophomore Maya Paiva led with 545 points, however it was not enough to stop Oviedo the eventual state champion.  The girls finished 26th overall, but were not able to make day two of the state tournament.
Next year that senior presence of Sarcevic and Tiedge will be gone for the boys, but Coville feels comfortable with his core.  He said that he needs five consistent players for his rotation next year.
Both teams look to build on returning core members and make an impact on states next year.
"I think we can build off of our losses and become even closer as a team, especially since we're losing some seniors and hopefully getting some new teammates next year," junior Riley Kane said.
Head coach Keith Coville talks about what his team learned from their losses.