Teed up for success
Freshman golfer pursues dream of going pro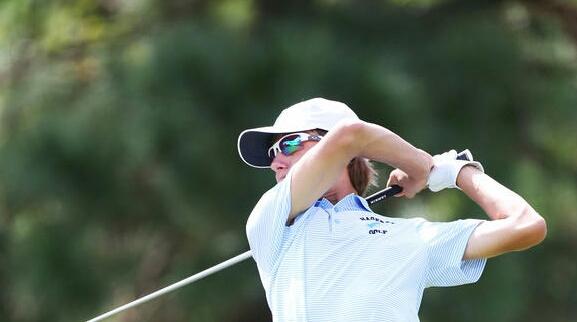 When a sports season comes to an end, athletes can move on. They focus on school, extracurricular activities or even other sports. For freshman Aidan Kramer, the end of the golf season brings only more golf.  Kramer hopes to one day play golf professionally, and he uses Florida Junior Tour tournaments and an intense practice schedule to make his dream a reality.
This season, Kramer was the only freshman on the boys golf team and ended with an average match score of 37.75, second on the team to senior AJ Adams's 37.14, and the team's best average tournament score, 73.
"I knew from the first team tryout that [he] would be a significant contributor to the team this year," boys golf coach JC Adams said.
The team's season ended Oct. 18 with a fourth-place finish at regionals, but Kramer continues his training by practicing 20 hours a week at Tuskawilla Country Club.  Off the course, Kramer drills at home and works on his swing. Kramer has played 15 tournaments this year outside of the school team and will continue to play through winter.  Since his tournaments are so frequent, he has to stay in shape at all times.
Kramer got his first taste of golf when he was 2 and his dad took him to a golf course near their home.  His parents saw it was something he loved, so by age 7, Kramer was competing in full tournaments.
"Obviously there's a lot of pressure going to something like that at such a young age, but I think I've always loved golf, so playing in tournaments has always been fun for me and I've never had to worry about the pressure," Kramer said.
A typical tournament for Kramer is a full weekend event, making it difficult for Kramer to work homework into his schedule on those weekends.  Most tournaments start around 10 a.m., but Kramer always arrives at least an hour and a half early to warm up.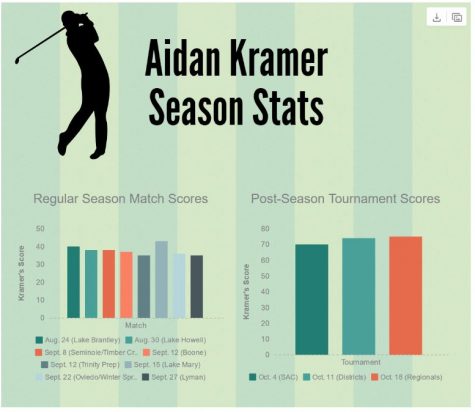 At a tournament on October 15-16, Kramer took fourth with a score of 71 with the Florida Junior Tour in Winter Haven.  On November 5-6, Kramer will compete in a tournament at the Professional Golfers' Association National golf course in Palm Beach Garden to qualify for the Optimist International, one of the biggest junior tournaments in the country, which will be held in the summer.
When Kramer is not competing in tournaments, he goes and learns from experienced professionals.  His first one was the 2011 PGA Championship at Whistling Straits in Kohler, Wisc.  He has also attended the Arnold Palmer Invitational in Bay Hill and makes an effort every year to attend the Player's Championship at the TPC Sawgrass course in Ponte Vedra, Fla.
"It's great anytime you can go watch the best golfers in the world.  You can see all the little things they do that make them so much better than everyone else.  They're really beneficial experiences," Kramer said.
Kramer brought some of the skills he has learned to the varsity boys golf team, such as warming up by practicing 30 three-foot puts in a row.
Although neither of Kramer's parents have a history in golf, both have supported him by paying for equipment and coaching, as well as driving him across Central Florida, and sometimes across state borders, to tournaments and practices.
"Watching your child set big goals at a very young age and continue to push themselves to achieve that success makes a parent very proud," Kramer's mother Lori Kramer said.
In May, Kramer shot his lowest round ever, a 66, which was six under par, winning him the tournament.
"When you shoot a score like that, it really shows how good you can be," Kramer said. "It made my dreams feel a lot more concrete."