Football defeats Oviedo, starts 3-0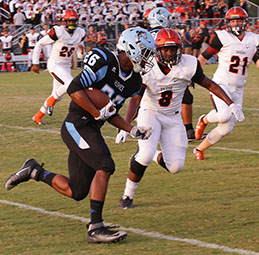 For most coaches, defeating your rival after six years of losing would be enough to call the season a success, but for head coach Phil Ziglar, it is not even close.
"I have said from day one that I started coaching here that the goal every year is playoffs and it still is," Ziglar said. "The playoffs are a mark for a successful team and if we don't make it, then we've missed our goal, but why have any goals if you're not going to reach them?"
Last season, the team started 1-2, with losses coming to Oviedo and Lake Minneola, both with the same score, 28-21. The schedule is the same, but with home and away games switched, and the results have switched too.
Through three games, the team is 3-0 for the first time since 2014 with wins over Winter Springs (41-18) on Sept. 2, Oviedo (17-10) on Sept. 9 and district rival, Lake Minneola, (37-0), on Sept. 16. Running back Tavis Thompson, who was on the junior varsity team last season, has led the way with five touchdowns.
"It's been exciting, being a major contributor to the team's success," Thompson said. "I've just been making sure I run downhill to make sure we go undefeated in the end."
Out of the three games played, a lot of emphasis was put on the Oviedo game, as this was the first time they defeated them since 2010 when current NFL quarterback Jeff Driskel was on the team. Even though Oviedo is not in the team's district, this was still a game the team did not want to slip away, as it had the past two years.
"I just didn't want to repeat, where we were up at halftime and let [Oviedo] comeback," cornerback Matt Lipari said. "We were making sure that we finished this game."
On defense this season, Lipari, defensive-end Sam Ditmyer and linebacker Leo Gomez have led the team, only allowing 35 points through three games, including a pick-six in the Oviedo game for Ditmyer and a blocked punt for a safety for Gomez in the Lake Minneola game.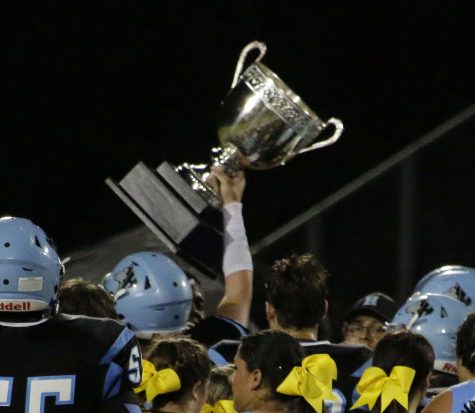 "A big thing I've noticed is our defense has been playing very well," Ziglar said. "We've held our opponents under 20 points and it's been a huge upside from our past seasons."
Although the team celebrated the Oviedo win, Ziglar believed that Lake Minneola was their first test, and they did not disappoint, as running backs Thompson and Jordan Gilbert, along with quarterback Ethan Brewer, scored five total touchdowns in a 37-0 win.
"Some may think the Oviedo game was more important, but because [the Lake Minneola game] was a district game, it was a lot more important," wide receiver Doug Meyers said. "However, we really needed [the Oviedo] win to boost our momentum for sure."
Even though the team's offense, the single-wing, is designed for runs than passes, the team has developed more of a passing game, including two receiving touchdowns in the Winter Springs game by Lipari and Meyers.
"We will pass more as the season progresses, but running the ball will always be the number one option," Ziglar said. "If you rush for over 360 yards like we did against Oviedo, you're going to win the game, so when you run, you're always going to be doing something positive."
Coming into the season, one thing the team stressed was consistency on both offense and defense, as last season, the team would outscore opponents in the first half, but be outscored in the second half and not finish games with a win. Despite this, that has not been an issue for the team so far.
"We just have to go out each week and do our jobs," Lipari said. "Everyone needs to understand that it's a different team every week, so we treat them like they're 0-0 and play the best that we can."
The team's next game is their first away game against Ocala West Port on Friday, Sept. 23 at 7:30 p.m. The team defeated them last season, 48-14, scoring all 48 points in the first half.
"These next couple of weeks are district games, so we're going to be putting a lot at stake on these games," Ziglar said. "We are playing a smart brand of football that will have us coming out lights out every single game."