Emerging Elective
New elective, AP Seminar, provides students to learn life skills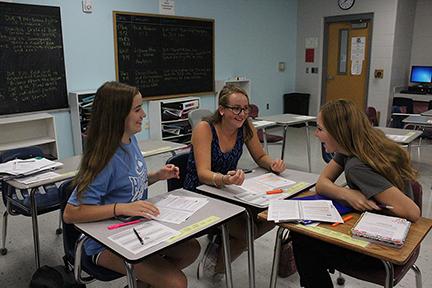 To outsiders, AP Seminar, a class where students read and research, might sound confusing or boring.  However, teacher Robin Grenz brings a new spin and energy to the seemingly uninteresting class.
"Ms. Grenz uses activities that really engage the students and teach them helpful skills. She requires a lot of critical thinking that other teachers don't always have in their classes," sophomore Kaitlin Yap said.
In the beginning of the school year, Grenz asked the students to create a tower out of marshmallows and spaghetti, to teach the importance of teamwork and what makes a good team.
AP Seminar is a new class for sophomores, juniors and seniors. This class allows students to complete independent and team research projects. Students enrolled in the class read and synthesize information. They find their own perspective, write essays, presentations and projects.
One of the first tasks students had was to work with a group to write a research project about immigration, that Grenz calls a 'we-search project'.
A major skill for students enrolled in the class is to find their stance, or 'lens'. Their topics are chosen by College Board and are often very broad, with too much information to write a report on. The purpose of 'lenses' is to narrow down the topic and to help students organize all their thoughts. For the immigration, we-search, Grenz gave students an option between two lenses for them to write their practice research project.
Students break down their subject into eight categories: cultural and social, artistic and philosophical, ethical, political and historical, futuristic, environmental, economic and scientific. Allowing students to choose their own stance makes AP Seminar stand out from other classes. This opportunity gives students independence and freedom.
"I really enjoy the discussions we have and that we include the opinions of other people based  off of our own topic," said senior Cassandra Grinstead. "It's easy to have a really good discussion that everyone learns from in the end."
Grenz will assign videos and sources for students to view, and then she'll have in-depth discussions about the topic. Students discuss either in their group or with the class, allowing them to view other lenses and perspectives.
AP Seminar consists of three different tasks that consume half of the school year. During their first task, students are given a topic that they must research and using their lenses they will write a paper on the information they have gathered. Students are placed into groups of three or four and create a presentation together by combining their different lenses.
Once students finish  the first task, they begin to work on task two. The class is given another topic, and students have to pick their own perspective. Using their 'lens' everyone has to write a researched-based essay on the given topic. Using the essay, individuals must complete a multimedia presentation. Students are questioned on their stance and must give convincing answers.
Since it is an AP class, AP Seminar has a final test in order to get an AP credit. Students take an exam that consists of three short-answer and one essay question, and then they answer a series of questions after reading a source. The second part of the exam requires students to create their own point of view.
"I wanted to learn the process for researching and writing a paper on what we researched. It is a really fun class that requires some critical thinking and helps prepare you for writing college research papers and applying for jobs," junior Sarah Rhodes said.
Students are given the opportunity to participate in the College Board AP Capstone Program. In order to complete this program, students must take AP Seminar and AP Research. The purpose of AP Capstone is for students to conquer skills like independent research, collaborative teamwork and communicating. These skills are all valued by colleges and help students in their other Advance Placement classes.