New football coach brings experience, strength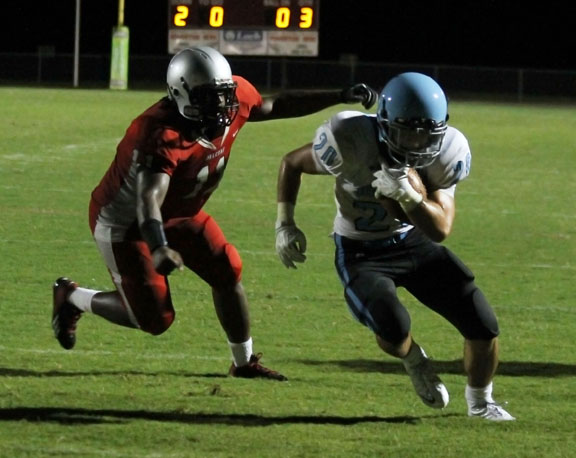 Autumn is around the corner and football players have geared up for a successful season. The same players gather for the same sport the same time of year, but this year, they have new leadership. Instead of seeing Coach Gierke, the former head football coach, players began the season with former Boone High School coach Phil Ziglar.
Ziglar has brought fresh techniques to the football program along with his 30 years of experience.
"Players must improve every day, even if they're the best on the field," defensive lineman junior D.J. Butler said.  "Ziglar is teaching the players work ethic and motivates them in a positive way to be their best."
Butler also mentioned new coaching methods for conditioning, such as having players run between drills to gain endurance.
"My goals for the season are to do well, and to make playoffs," said Ziglar.
Ziglar has great expectations for players such as seniors Jason Driskel and Breht Joly, juniors Joseph and John Simone, and sophomore Gabe Diaz. After months of training with Ziglar, players are "eager to get on the field."
There will be a preseason away game at East River on Friday, Aug. 23 at 7 p.m.
About the Contributors
Sarah Gibson, Opinions Editor
Sarah Gibson, more frequently referred to as Gibby, has been on staff for two years as a staff reporter and is currently the Opinions Editor. Along with newspaper, she is a Fellowship of Christian Athletes Leader and is involved in Varsity Weightlifting and Varsity Track & Field.
Jake Arthur, Head Photographer
Senior Jake Arthur has been on staff for three years and is the Senior Photo Editor. He can be found on the sidelines of most sports games and Hagerty events as he documents the year for both the newspaper and yearbook staff. Jake attended Summer Journalism Institution at UF and has shot state championships for basketball, cheerleading and softball. He also is a wedding and event photographer. He is an Adobe Certified Associate in Digital Communications using Photoshop CC 2015 and CS6.