Weightlifting dominates season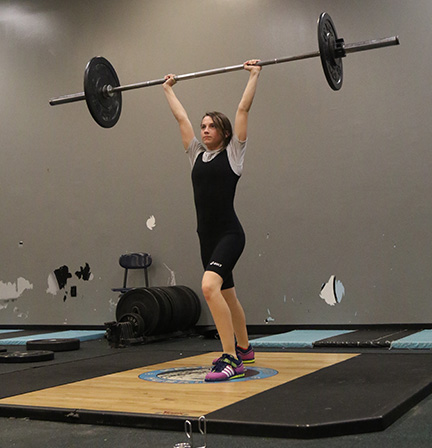 Undefeated in their regular season for the second year in a row, the girls weightlifting went on to triumph as two-time SAC district and regional champs, sending four girls to the state competition with senior Olivia Albano taking second and junior Kellen Marini securing fourth. The weightlifters, as a team and as individuals, shattered school records, claimed their second district and conference titles in school history and set a record for the number of girls sent to regionals and to states.
On Jan. 13, the district competition saw 14 members of the team place in the top six for their weight class, allowing them to qualify for regionals. Among them, freshman Cheyanne Ducharme won first in the 101 pound weight class with a 100 pound bench and a 95 pound clean and jerk.
At regionals, the team won second, with Albano automatically qualifying for states for the third year in a row with a first place total lift of 310 pounds in the 110 pound weight class. Ducharme, who placed second with a 205 pound total in the 101 pound weight class, also qualified for states with senior Tia Menna, who placed second in the 129 pound weight class with a 280 pound total.
"At regionals I just minded my own business," Ducharme said. "I get psyched out when I watch others lift, so I zoned out and did as best as I could and I couldn't be more proud."
Also placing at regionals but not moving on to states was junior Kellen Marini, who placed third in the 154 pound weight class with a 330 pound total, senior Erin Catlin, who placed fourth in the 119 pound weight class with a 250 pound total, and junior Francesca Spadaro, who placed third in the 183 pound weight class with a total of 183 pounds.
At states, Menna and Ducharme weighed-in at 8 a.m. and lifted at 10 a.m. Ducharme hit her personal record, lifting 105 pounds for both bench and clean and jerk, placing 16 out of 20 competitors for only her first year on the team. Menna, who was unable to make her clean and jerk, was disqualified.
"It's a letdown, but it is what it is," Menna said. "The past two years I've just been trying to get to states, so it was good to get there. It's just disappointing because all of my seasons end in technicalities. I would have been fine with last place, but to not even qualify was hard."
Ducharme, happy with her performance, is excited to improve upon her success next year.
"When I first joined, the upperclassmen [were] kind of intimidating because I was like, 'Oh God, you're going to break me,'" Ducharme said. "But it turned out to be fun and now I really look up to them and I can't wait to make top ten at states next year after doing so well this year."
Marini and Albano, on the other hand, faced a conflict between weightlifting and cheerleading. The cheerleader's national competition, which has always been scheduled on the same day as the state competition for weightlifting, did not allow enough time between the two competitions for the girls to make both, as Albano has done in past years. While Marini and Albano were allowed to lift on Thursday, because they lifted two days earlier than everyone else, it gave their competition the advantage of knowing what weight to beat.
"
It's not about numbers, it's not what I put on the records board," Albano said. "It's about what I've done to the program; it's the lasting affect I've had on the team and on the girls."
— senior Olivia Albano
"Would, coulda, shoulda, right?" Albano said. "I'm just happy to have competed in both sports I love and to have done the best I could with what I had to work with."
Albano's accomplishments extend far beyond states as she concludes her high school career as a four-time SAC conference champion, four-time district champion, three-time regional champion, three-time state meet qualifier, and two-time runner-up in states. She even holds three school records in three different weight divisions. But she says she is most proud of the lasting impact she has left on the program.
It's not about numbers, it's not what I put on the records board," Albano said. "It's about what I've done to the program; it's the lasting effect I've had on the team and on the girls."
Among other impressions she has left on the team, Albano says she has certainly helped to alleviate the pressure on multi-sport athletes, encouraging others, alongside coach Matthew Malkovich, to participate in weightlifting in addition to other sports.
"Too many people think specialization is the best route. I totally disagree," Malkovich said. "Student athletes should be involved, within reason, in as much as they can."
With the conclusion of the season, the team looks to next year with optimism and is hopeful for continuing their record of excellence
"We've developed the program enough to have a solid foundation for years to come," Albano said. "We're a strong team, metaphorically and physically, and I can't wait to see how future seasons bring the success the team deserves."
When asked how the team will maintain their competitiveness, Malkovich says it is just like any other season.
"The team will reload and push forward," Malkovich said. "The goal is simple and it is the same every year: get better every day, every week, every meet."