Mahoney returns to home court in win over Lyman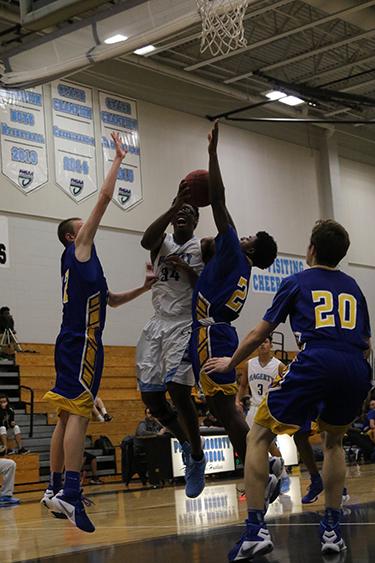 With the district playoffs starting next week, the boys basketball team at 13-10 is headed there in an unfamiliar fashion. Last year, the team came in hot with the two headed monster of juniors Alex Keel and Denzel Mahoney leading the way. Until this week, Mahoney has been on the bench with an ACL injury, suffered in the offseason. But earlier this week against Lake Brantley, Mahoney found the court for the first time and changed the entire team dynamic.
"It was exciting. I didn't even intend on playing, but I had a good warm up and was feeling good," Mahoney said. "It felt good to come back and contribute. [I'm] just doing what I can to help us win really."
With Mahoney in the lineup, the pressure on players like Keel and forward Will Faulk is taken off.
"It's huge, just to have him on defense talking; at three different points [Wednesday night] he shoved different players to show them who to cover," head coach Joshua Kohn said. "Anyone else and the guys would just shrug, but when Denzel speaks, it's yes sir."
On Wednesday, Jan. 27 the team defeated Lyman 66-58 behind Keel's 19 points and Mahoney's 12. The team got up big on Lyman early at one point, leading by over 20 points. After giving up 11 points in the first quarter, the team's defense locked in and gave up just three points in the second.
Although Lyman was able to score 44 points in the second half to cut into the lead, the team was able to hold on to win the game. Now riding the momentum from the win, and a regular season finale win against Winter Springs, they look to the playoffs.
"I think with this team it's just a matter of let's get to the playoffs," Kohn said. "We needed that game and we need the next game."