Girls weightlifting earns victory against seminole high school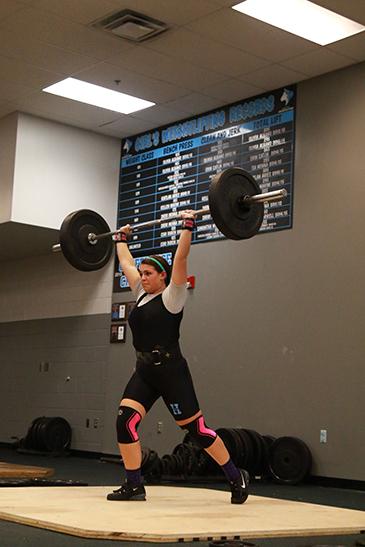 On Wednesday, Nov. 2 the girls weightlifting team beat Seminole, 60-30. Although the team did not feel it was their strongest meet overall, small victories, such as freshman Cheyenne Ducharme's personal record of 100 on the clean and jerk, and the addition of senior Faro Makuto helped lead the team to victory and a 5-0 record
Adding to the stress of the meet was the fact that Seminole was late due to transportation issues, meaning that Hagerty had to complete bench presses without Seminole and they arrived shortly before the clean and jerks.
"We lifted against ourselves, which kind of stinks, but on the other hand you have to just adapt to the changes," head coach Matt Malkovich said.
Several lifters led their individual weight classes. Senior Kendal Haitt at 205lbs, senior Tia Menna at 275lbs, junior Francesca Sparado at 280lbs and junior Kellan Marini at 325lbs.
Captain Olivia Albano, who placed second at states last year, was able to total at 305lbs, benching 150lbs and clean and jerking 155lbs.
"Seminole is probably our biggest competitor we've had thus far," Albano said. "They have a fair amount of girls on their team, and it's definitely not a breeze to compete against them."
Malkovich, however, is focused on what lies ahead.
"Everyone needs to relax," Malkovich said. "No need to peak versus Seminole. We will when the time is right at conference and regionals."
Malkovich also explained that the team is still focused on the training aspect and that at the moment the team is not focused on lifting their absolute best.
The team will train during winter break, and then look forward to defending their district championship title when they compete again on Jan. 13.