Seniors win annual Powderpuff game
Homecoming week is a time for students to have fun and maybe do things a little bit backwards. On Wednesday, Oct. 22, the juniors and seniors faced off in the yearly Powderpuff game, which raised significant funds for the junior and senior classes. The senior girls won the flag football game 20-6.
The Student Government Association played a major role in running the event with junior and senior classes spending six weeks planning the game. Volunteers arrived early to set up the field, because the event was not run through the athletics department .  During the game, the freshman and sophomore classes ran concessions, while the junior and senior classes controlled ticket sales and provided players and cheerleaders with free Huey Magoo's.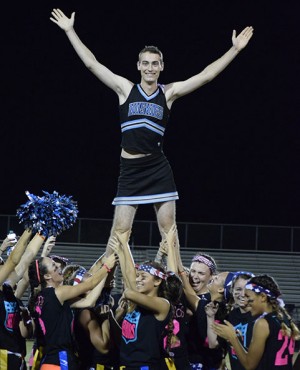 photo by Kacy Lach
Seniors Olivia Albano, Kassandra Mentlick and Holli Ramby organized having the senior football team wear purple ribbons on their uniforms in support of fellow senior Kelsey Baltz, who was recently diagnosed with lymphoma.
In past years, the game was held on the Thursday of homecoming week, but per cheerleader request to have the Husky Rumble on Thursday, Powderpuff was moved to Wednesday. The switch, however, did not affect spectator turnout.
As usual, the cheerleaders performed a halftime routine. Only one senior, Jake Arthur, cheered, so only the juniors performed.
"[Juniors] didn't win on the field, but at least we won on the sidelines and during halftime," junior class president Sierra Hittel said.