Golf Girl
Senior Erikah Neger proves golfing is more than leisure activity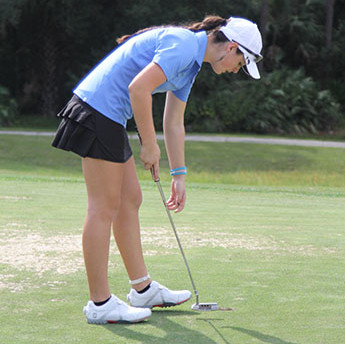 Intense focus, mental stress, physical demand: maybe those phrases are not typically associated with golf, but senior Erikah Neger would disagree.
Her introduction to golf came from her brother, and since age 5 Neger has grown to love the game. Neger is captain of the school team and her 9 hole record is 34. She has made first team all-conference every year, but not only does she lead by example, she leads by attitude too.
"She's always there to give tips on how to be better and to give a metaphorical pat on the back when we're killing it," sophomore Paxton Cain said.
Tod Benedict, a former PGA player and the girls' team coach, helps her to work on the mechanics of the game.
"It takes a lot of time to fix something in the golf swing," Neger said. "It's really mentally and physically difficult and requires a lot of patience."
Her coach identified some of the aspects Neger works on.
"Her greatest strengths are her on course management and highly accurate iron play," Benedict said. "Her putting is good but not great and she works very hard on improving that aspect of her game."
In addition to being on the school team, Erikah is coached by Ted Britschgi at the Golf Academy. A combination of coaching and practice has allowed her to improve from a 42 stroke average freshman year to a 36 stroke average senior year. During the summer she was able to practice twice a day, once in the morning and once in the evening.
Golf has also determined her academic schedule. Neger takes more than half of her classes virtually so she has the flexibility to golf daily, sometimes at before school.
Neger is planning to pursue golf in the future and is currently talking to colleges so that she can join a college team. The extensive process includes being in constant communication with coaches and researching and understanding the type of scholarships the school offers. Neger is interested in the University of Central Florida, Florida State University or Stetson University.
"A lot of people don't understand how stressful it is. It's like going Division 1 in any other sport," Neger said.
One of the key factors in her success thus far has been the support of her family. Her brother, MarcAnthony Neger, who is on the school's boy golf team, practices with her. The sibling duo has even created their own hashtag, #negernation. Neger also credits her parents for providing her with the opportunity to be a dedicated athlete.
"I just hit the ball, they're everything else behind it," Neger said.
Even with all of the demands of her future success, Neger also focuses on enjoying the game in the present. She currently practices with her team three days a week and has matches on top of that. Although the team has a fair amount of new golfers, they have already won four out of their first six matches and remain hopeful.
"I'm really excited for my last high school golf season," Neger said. "I hope that all my records hold and people remember me as the golf girl."
About the Contributors
Madeline Kemper, Business Manager
Madeline is a senior and has been on the HHS Blueprint staff for the past three years. She is currently the Business Manager and News Editor. She has attended the Florida Scholastic Press Convention for the past three years. Madeline is also a varsity cheerleader and is the executive co-president of the leadership program.
Jake Arthur, Head Photographer
Senior Jake Arthur has been on staff for three years and is the Senior Photo Editor. He can be found on the sidelines of most sports games and Hagerty events as he documents the year for both the newspaper and yearbook staff. Jake attended Summer Journalism Institution at UF and has shot state championships for basketball, cheerleading and softball. He also is a wedding and event photographer. He is an Adobe Certified Associate in Digital Communications using Photoshop CC 2015 and CS6.