"Guardians of the Galaxy Vol. 3" brings stellar conclusion to franchise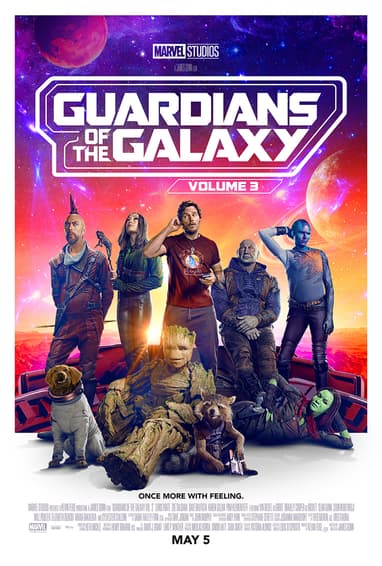 "Guardians of the Galaxy Vol. 3" premiered in theaters on May 5, 2023. The movie is a beautiful conclusion to the franchise as a whole. Many reviews and discussions around the film surround the idea of a bitter-sweet ending, however, the movie is more than that. The "Guardians of the Galaxy" franchise has always been funny and action-packed, and this movie is no different. It is truly hard to imagine a better send-off for these beloved characters. 
"Guardians of the Galaxy Vol. 3" has a very different feel than what many Marvel films portray today. There is something far darker and heart-wrenching than is used to. There are many gruesome, violent, ugly scenes that would make any viewer squirm. It really tests the limits of a PG rating. Oftentimes, movies include violent scenes for the sake of violence and gimmick, but in "Guardians of the Galaxy Vol. 3," no scene ever feels unneeded and every moment feels necessary and impactful. 
The writing is fantastic. Every conversation feels real. The director, James Gunn, never shies away from showing how the characters get angry, sad and ugly, making them feel all the more human. One hundred people could watch the movie and each one could walk away remembering a different quote that is meaningful to them. On top of that, that cast is fantastic. Chris Pratt, Zoe Saldaña, Vin Diesel and Karen Gillian all give heart-wrenching performances, although Bradly Cooper as Rocket really steals the show. 
As of late, Marvel movies' CGI has been pretty hit or miss, despite their big budget. "Guardians of the Galaxy Vol. 3" has lifelike character expressions and landscapes you could jump into. Every cent of the budget was clearly used wisely and every Marvel director should take note.
The first scene of the movie opens with a large, faceless, ominous hand reaching toward a young, innocent creature. It is immediately jarring, but sets up the main theme of the franchise as a whole. Looking past the comedy and action, each of the characters has that looming hand over them—the hand of abuse. And no matter how broken the characters seem, they heal and find love and closure. That is what the franchise is about and the final movie drives home that theme, pulling at the viewers' heart strings as they say goodbye to these beloved characters for a final time.
Whether you're a big MCU fan or you've never seen a single Marvel movie, "Guardians of the Galaxy" is a fantastic franchise that balances heart, comedy and action in a way that would remind some viewers what movies can do.