Potted Potter brings humor to Hogwarts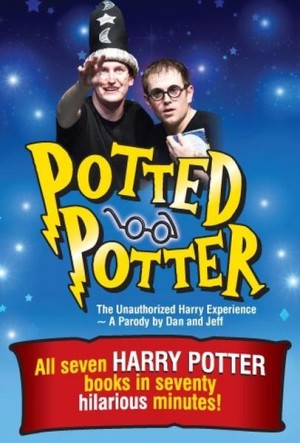 In a mix of fairy wands, devil horns and parodies of Gloria Gaynor's "I Will Survive," Potted Potter: The Unauthorized Harry Experience brought a hilarious portrayal of the Harry Potter series to the Dr. Phillips Center for the Performing Arts on Tuesday, Feb. 3.
The goal of Potted Potter, originally written and performed by Daniel Clarkson and Jefferson Turner, was to humorously tell the stories of all seven Harry Potter novels in under 70 minutes, with only two performers on stage. The show was eventually handed over to actors Benjamin Stratton and James Percy, who performed as if the project was theirs, mixing scripted bits with interactive improvisation.
The performance began with a purposely questionable recreation of the first book, in which Stratton used a Satan-like costume to portray Voldemort, and Percy appeared with the name "Harry" scrawled across his forehead to, apparently, make his identity more obvious. These chaotic yet hilarious antics continued through the 70 minutes, adding a comical tone to even the darkest parts of the series.
While the entire show had the crowd intoxicated with laughter, the actors further enhanced the experience by keeping the audience involved in the action. At the beginning of book four, for example, Stratton and Percy turned to the viewers for the game of quidditch, splitting the audience into teams of Gryffindor and Slytherin, throwing a beach ball into the crowd, and selecting two "seekers" from the audience to chase the snitch, portrayed by Percy, around the stage. In the end, Gryffindor's team was punished for its apparent loss when Stratton pointed a water gun and soaked the unfortunate front row.
This sort of interaction was possible due to the intimacy of the Alexis and Jim Pugh Theater; the room only seats 300 people, allowing the show to involve everyone, with Percy even venturing into the crowd to individually greet audience members. From intense quidditch matches to jokes about individuals in the crowd, the small setting let the audience become a part of the humor onstage.
In their performance of Potted Potter, Stratton and Percy provided a comedic experience that not only entertained audience members, but kept them active in their portrayal of the series.
Potted Potter will play at the Dr. Phillips Center until Sunday, Feb. 15. Ticket prices range from $37.50 to $62.50.