Theater Troupe 6885 receives Superior rankings at states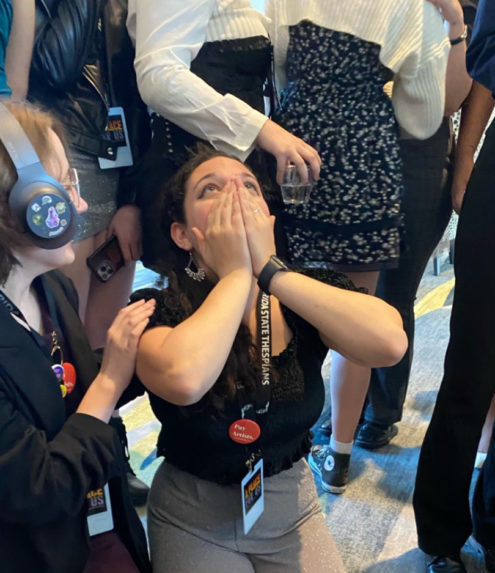 As senior Lily Joseph ended her Shakespearean monologue in front of a table full of judges, she felt confident, but not confident enough to expect the judges to award her Top Honor, an award reserved for the best performances statewide. 
On March 14, Theater Troupe 6885 traveled to the Tampa Convention Center to attend the annual Thespian State Festival. Over the next three days, students performed in varying categories ranging from group musicals to publicity showcases. The troupe ranked Superior on their publicity design, two scene designs, duet musical, monologue and large group musical performances while their one-act performance of "Abigail 1702" ranked Excellent after receiving an honorable mention at the previous district festival. Though the one-act did not originally qualify for the state festival, the troupe was invited to perform it after another school opted out. 
"Playing Abigail in 'Abigail 1702' was easily the most challenging role I've ever played and the story meant a lot to me, so getting to take it to the states felt really amazing," Joseph said. "[Senior Carter Wegman and I] both took the time to understand and develop our characters and their relationship so that the audience really understood the importance of each moment on stage."
Joseph's monologue performances also received a Top Honors award, ranking her performance one of the best in the state, along with the duet musical. Each performance had been months in the making before the festival, and some students started working on their lines as early as November. Senior Ainsley Newton, charged with designing a poster, tickets, a program, two press releases and a promotional project, used her preparation time to make sure that her showcase was reflective of both the classic and nuanced aspects of the theme of the competition, "The Great Gatsby."
"Being on publicity really tested me. 'The Great Gatsby' is a classic, and there are so many different ways that you can redefine a classic, so it really challenged me to think outside the box while keeping things historically accurate to the 1920s," Newton said.
According to Joseph, the group ran into many costume and makeup mix-ups after arriving at the venue, but despite these challenges, they put on a notable performance. 
"Given all of the circumstances, I am proud of our score. Even getting to states is a challenge, so the fact that we all banded together to pull it off was definitely more than enough for me," Joseph said.
At the state festival, troupes were also allowed to participate in a number of educational workshops, from choreography to set design. After performing her lead role in the group musical Violet, senior Ainsely Newton attended a workshop in which she learned the original choreography to the song "Cool" from "West Side Story." Joseph also participated in a choreography workshop, but her favorite was a session on Meisner acting technique, honing in on emotional preparation, repetition and improvisation practices. 
"We did some really intense personal and partner work in [the Meisner workshop] that opened my eyes to a whole new side of acting," Joseph said. 
About the Contributor
Sophia Canabal, Lifestyles Editor
Sophia Canabal is a senior at Hagerty High School, and this is her third year on staff. Her hobbies include collecting rubber ducks and backseat driving.