The royalty of social media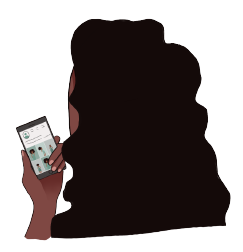 By definition, an "it girl" is someone who has achieved fame through their seemingly glamorous lifestyle. While that is true for today's social media consumers, finding the "it girl" is so much more. Those who put certain people on the pedestal of fame often look to that person to inspire who they want to become and the ways they express themselves. Their styles, looks and actions are just the start of how they influence their audiences. Alexis Ren, Charlie D'Amelio and Bella Hadid are just a few of the women who have been given the "it girl" crown. 
"I love how Lexi Hidalgo's style is different from people like the tiktoker Alix Earle. I started listening to her podcast which allowed me to know more about her and she has really inspired me to take care of my body and love myself," Roberts said. 
Junior Mady Roberts is inspired and motivated by tiktoker Lexi Hidalgo, who has had a large following for a while but has recently gained a lot of attention. One of the many reasons that Hidalgo has gained more attention recently has been due to her openness about her struggles and how she copes. She promotes health and self-love over beauty standards, allowing her audience to feel seen and heard.
Recently, Hidalgo was sent to Cabo, Mexico with Free People to promote their new swimsuit launch, an opportunity made possible due to the followers she has gained over the last couple of months. 
"I think that her openness plays a big role in how she influences people. When influencers are more closed off, people only really try to copy their looks," Roberts said. 
With just one look at an "it girl's" social media, it is easy to see why so many people have idolized them. People like Hidalgo emulate traits that many young teenagers long to achieve, such as trendy style, bubbly personality and glamorous lifestyle.
However, not every influencer is as genuine as Hidalgo. People that gain the most fame are usually those that portray conventional beauty standards. A skinny body and clear and tanned skin are all traits that they promote.
"'It girls' hold such an outrageous standard because not everyone looks [like] them, but everyone wants to. This [gives] the impression that you have to look like these women who often photoshop," senior Kylie Cohen said. 
Society puts those that are seen as "perfect" on a pedestal in order to emphasize what you are supposed to look like, which is unrealistic for most. Lizzo is a celebrity known for promoting body positivity as a plus-size woman, but she often faces a lot of backlash due to this. Influencers that portray conventional beauty standards do not get the same backlash from their audiences. 
Although each of them reached their peak fame at different times, many creators are sponsored by  the same brands and follow the same ongoing trends. For senior KJ Lanz, these influencers have caused her to invest in many of the products that they promote and build her confidence around things she normally would not do. 
"I used to be really self-conscious about having my hair slicked back, but now I don't mind doing it because it's trendy. I also get a lot of makeup inspiration from influencers, especially Alix Earle," Lanz said. 
Looks are a large part of why "it girls" become so popular; Alexis Ren and Bella Hadid started out as models. Another component that plays a big role in their fame is the content they post.  When Alexis Ren was at her highest, her island life adventures were everyone's dream aesthetic on Tumblr.
Currently, 22-year-old college student Alix Earle is the center of everyone's attention. Her active lifestyle and relatability is what gained her the overnight fame she carries now. Her get-ready-with-me videos and popular "Amazon finds" videos have a way of making people feel glamorous and trendy while also having access to affordable items. Due to her overnight fame, Earle has been granted the ability to attend premieres and gain more attention through articles written by big platforms like People. 
Over time, many different influencers have been idolized but they don't hold that attention for long. Trends and "cancel culture" have proven how easy it is for the biggest influencers to lose their fame the same way they gained it—overnight. James Charles is a prime example of this—after being accused of inappropriate behavior with underage boys, he lost over eighty-thousand subscribers and multiple brand deals. These quick changes affect not only the influencers themselves, but society as a whole. 
Many smaller influencers have begun posting videos of the newest "it girl" predictions. Many of them have predicted Emilie Kiser due to her rapidly growing fan base. Gaining 500,000 followers in less than two weeks, she has been referred to as the next Alix Earle, showing just how quickly the tastes of social media users can change. 
"I feel as though it highlights the way of society and the standard that you have to look a certain way to be famous or popular. She's a gorgeous girl and I'm sure she has a great personality, but she didn't work to get that fame, which is unfair to others trying to make it in social media," Roberts said. 
Role models are vital for figuring out who you are and who you want to be, but oftentimes the "it girl" pedestal creates excessive pressure and aftermath if someone messes up. Junior Ellie Shaddix has been a part of the influencing world for more than six years as a model and actress. "It girl" culture has given her insight into how they curate their online personas. 
"I have become hyper-aware of the fact that everything and everyone can be edited since I started modeling," Shaddix said. 
This line of work can be very competitive, requiring careful planning and execution in order to achieve a following. When a new person becomes the center of everyone's attention, it is difficult not to wonder what you could be doing wrong.
"I definitely feel like my poses need to fit in and be on trend, which can be challenging because the goal is to be unique instead of going with the flow," Shaddix said. "My Paris shoot made me feel like an 'it girl' because I was in a confident pose, which made my confidence shine through from the inside as well."
Although society would be very different without these influencers, many of them have had a positive impact on their audiences. By posting content of their favorite products and outfits, they create the opportunity for their viewers to find new things that they might like. 
"I've recently been really obsessed with fitness influencers and how they put together their outfits. I have definitely developed a lululemon addiction from watching their videos," Lanz said. 
No matter their fame, all influencers have the ability to promote inclusivity and acceptance. Whether or not they can portray those traits determines how long they remain popular and how their audience views them. 
"Influencers have the power to create a safe space for women to bond with each other and find themselves as long as they do it right," Cohen said. 
About the Contributor
Madi Denizard, Staff Reporter
Madi Denizard is a senior at Hagerty High School, and this is her first year on staff. She loves writing and the creative freedom that accompanies it. She can't wait to contribute her skills to this years newspaper and get the inside scoop on everything around her.