Students take top prizes in Seminole County Science Fair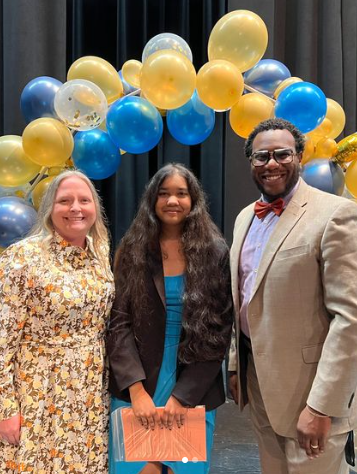 Junior Anouska Seal entered the Lyman High School auditorium with low expectations. She had placed second in her category previously, and she knew the chances of getting an international bid were slim, so when she won the Best in Show Biological Category, she was surprised. Five awards and an international bid from Regeneron later, Seal was speechless.
"I think what made my project stand out was the fact that I learned so much," Seal said. "I was so excited during the actual process of research, and I wanted to convey my passion to the judges, not only the project."
Garnering more than 300 participants from schools all over the county, the Seminole County Regional Science, Math And Engineering Fair is one of the most prestigious STEM events in the Orlando area. A day-long event, students present their data on tri-folds as judges and other patrons pass by and ask questions. Participants are judged not only for the delivery of their conclusions, but also on their project's creativity and originality. Winning students have the chance to go on and compete at the state and international level later this year in April and May.  
For senior Lyan Ortiz-Brito, who won first place in the Biomedical and Health Science category, winning was not the only incentive to participate. When she heard the announcement for submissions on the intercom, curiosity was what drove her to sign up. Considering she was the only student who participated without being actively involved in a school-led research class, Ortiz-Brito competed for her own personal enjoyment.
"As someone who wants to go and be a physical therapist, it is something that I am really passionate about," Ortiz-Brito said.
Passion mixes well with personal stories, as it did for Seal, who chose a topic close to home. A few years ago, Seal's grandma was chosen as a candidate for knee implant surgery. As her family researched the pros and cons of the surgery, they discovered that such surgeries have very high rates of infection due to antibiotic resistance. Since the problem affects millions each year, Seal chose to study antibiotic resistance and ways to combat it. 
Similarly, Ortiz-Brito, who studied the effects of naturally-produced Omega-3 versus Omega-3 produced for supplements, also found inspiration in her own home. Her 90-year-old grandpa claims his good health is the result of organic foods and daily intake of supplements. Ortiz-Brito decided to test his statement and the relevance it holds to the current generation for her project.
"I knew the effects and the concerns that we [as a generation] have," Ortiz-Brito said. "I wanted to emphasize how we must be precautious about what we take into our bodies, especially what we discern is supposed to help us."
After coming up with their initial research questions, both Seal and Ortiz-Brito had to go through multiple rounds of approval and paperwork to join the competition. Approval from the county board was slow to obtain, and gave students a small window of time to actually complete their research. 
"I did my project in two weeks, but it was a lot of going to the lab every single day [and] staying until five or six to get all the work done," Seal said. 
Not only does the fair require extensive research, it also demands mental toughness. 
"It is a bit of a mind game," Ortiz-Brito said. "People here are very talented, you start to see all these people dressed up, ready to prepare their projects and you have to prepare yourself and say, 'Okay, I got the same things that they have. It's just you and you have to shine.'"