Boys basketball takes district championship
With one minute left in the district championship, Hagerty led Colonial 38-34. Sweat dripped in his eyes as senior Aiden Cilladi dribbled the ball preparing for the free throw. He took a deep breath as it went in, giving Hagerty the last point needed to win the championship. 
On Feb. 10, the boys varsity basketball team traveled to Colonial for the district championship game. They won 39-36, sending the team to regionals. 
During halftime, Hagerty was down 27-19, but in the third quarter, Hagerty was able to pull ahead by two points. For the last two quarters of the game, the teams were neck and neck. 
Senior Dawson Barr was the lead scorer with 21 points, but defense played a bigger role in the game. Trust between players played a large part in how they interacted on the court and the decisions they made. 
"My main goal was to stay calm and play through. I've been waiting for another chance at this game for two years," Barr said. 
Since transferring from Oviedo High School, this was Barr's first time playing in the district championships.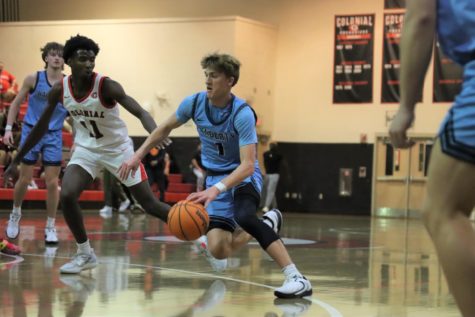 "I was really proud when we were able to cut the lead back after being behind in the second quarter," Barr said.
This was the lowest scoring game they have had all season by eight points. According to basketball coach Josh Kohn, the defense that the team played was designed to slow Colonial down. It succeeded while also slowing Hagerty down, which made scoring tougher for both teams. Colonial did not score for the last eight minutes.
"I'm happy the guys played so hard and smart— they deserved the win. The seniors were on a mission, and it made a huge difference," Kohn said. 
As their biggest goal was to be able to host regionals, the team had been working a lot on their techniques at practices. They have been doing the best they can to improve their communication and shooting skills by doing scrimmages. They also spent a lot of time watching films, going over plays and studying their opponents so that they were prepared for anything. 
"Miscommunication was a big thing we were working on. We struggle with not communicating or talking at the wrong time and letting up an easy bucket," power forward Adrian Garces said. 
The team has made sure to keep their good chemistry since the beginning, aiding them in their successful 22-5 season. 
"We already had good chemistry and we all shared the ball. When one person had an off day, another could pick up the slack. We all talk and make sure we keep up our chemistry," Garces said. 
On Thursday, Hagerty will host the regional quarterfinal game against Ocoee at 7 p.m. Tickets can be purchased on gofan.com. 
About the Contributor
Madi Denizard, Staff Reporter
Madi Denizard is a senior at Hagerty High School, and this is her first year on staff. She loves writing and the creative freedom that accompanies it. She can't wait to contribute her skills to this years newspaper and get the inside scoop on everything around her.