New safe space for students on-campus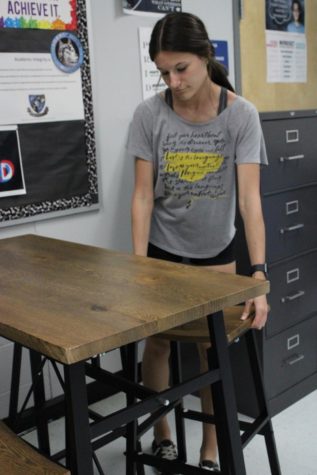 When junior Alena Pezzoli first heard about Ali's Hope, a group working to improve teen mental health, she was eager to be a part of it. 
"I liked the idea of giving students more opportunities for growth and support," Pezzoli said. "The other students around me were excited too, and I like working with people dedicated and willing to work hard."
On Jan. 26, assistant principal and club sponsor Kristi Draus met with a group of students to go over design plans and make sure the space would be comfortable for all. The group's first order of business is to design the space and get it set up for students to feel comfortable. Eventually, Draus hopes to start initiatives, programs and events to provide students with mental health resources, including a podcast that students can relate to, with topics like exam pressures and coping strategies.
"We'd love to do a podcast by students for students," Draus said. "[We want] it to be student voices, talking to students instead of grown folks thinking we know what's best for you all the time and being the one to tell you."
Ali's Hope was founded by Joe Gallagher, whose daughter Allyson committed suicide in 2007. After a student at Lake Mary committed suicide in 2019, administrators turned to the nonprofit organization as a way to help others suffering with mental illness.  
"Ali's Hope was instrumental to us in ensuring that we had mental health support for students," counselor Andrea Fuhrer said. "[Lake Mary had] a real urgency to try to address the needs of students' mental health and make sure that they felt safe emotionally, physically, in every sense of the word."
As Ali's Hope spread across Seminole County, Hagerty jumped on board with a similar approach. Its temporary name, Wellness Club, will be a safe space for students in room 7-215 to go to during both lunches. The plan is to open the room during the fourth quarter and make the space available for the whole school day. This space will aim to serve students who might usually eat by themselves or to help them decompress before continuing with the rest of their day. The room will be a place for students to socialize and meet new people, but also destimulate. 
"[High school is] a lot, so we're taking in those things and creating that space," Draus said. 
Although the space is meant to improve the well-being of students, Draus hopes it will also diffuse issues like bullying and discrimination.
"It doesn't matter how successful you are academically if you're not well as a human [being]," Draus said.
Ultimately, the group hopes to provide students with the support they need to know they are not alone and how to reach out for help. According to Fuhrer, many students go through high school without realizing their counselors are there to help. Some students come from cultures where mental health support is not highly supported, so this new program gives those students a voice.
"We want to break down the mental health stigmas at Hagerty and focus on how mental health isn't a sign of weakness," Pezzoli said. "Getting help is a sign of strength and we want to provide a space for students to strengthen themselves."
Between the PTSA, the counseling entity Empower on campus and other wellness support platforms for students, there are lots of options for students, but Draus is working to bring them all together.
"I feel like we've got little pieces everywhere and we want to make it cohesive. I think as a cohesive program, it could do so much more for students," Draus said.
Because the program is by students for students, those in charge are looking for their peers' input on design or ideas to fit the needs of everyone. The Wellness Club serves to give students a voice who never had one before. If students are interested in helping to set up the space, see Draus in the front office or send her an email at [email protected].
About the Contributor
Julia Sumpter, Print Editor
Julia Sumpter is a senior at Hagerty High School, and this is her third year on staff. She loves writing all different types of stories as well as learning about different design techniques.