Setting Up Shop: Waterford Lakes
After conquering Winter Park, Oviedo and Sanford, I was pondering where my next stop should be. I did some research, which led me to Waterford Lakes, a shopping center full of various boutiques, shops and restaurants, making it a great place to spend a Saturday. I was very pleased with the shops I visited while in Waterford, and I only scratched the surface.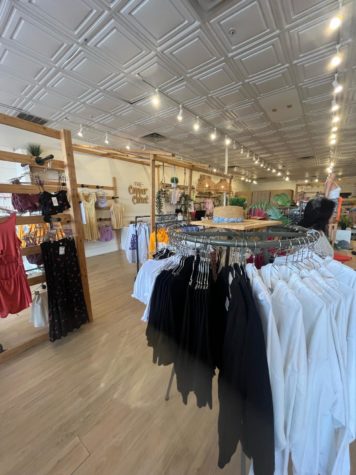 The first stop of the day was The Copper Closet. Similarly to Lauren Nicole, The Copper Closet also had a beautiful interior that displayed all their fashionable clothing items well in a very pleasing and uncluttered way. Danielle Dallas, owner of The Copper Closet, became inspired to create her own business while managing a boutique in Gainesville. Dallas noticed that products were unnecessarily expensive and out of shoppers' price range, so she set out to create a boutique that focused on high quality items with reasonable prices all below $50. After saving money while being a college student, Dallas was able to open the first The Copper Closet, and now has over 24 locations around the eastern United States. Besides an array of garments, The Copper Closet also had cute stationery products in pastel colors that would make the perfect gift. The Copper Key displayed garments with hearts on them at the front of the store, making it the perfect place to shop this Valentine's Day.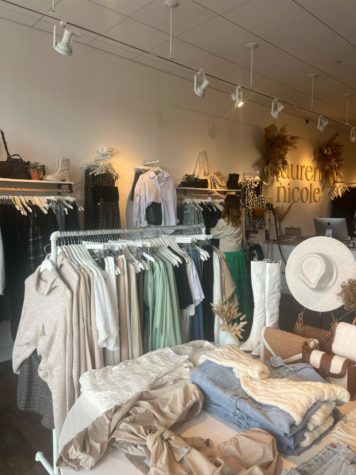 My second stop of the day was Lauren Nicole. A small boutique, Lauren Nicole caters to anyone looking for staple jewelry and clothing items with a mature clean style. Lauren Nicole has an extensive catalog, ranging from denim to swim, accessories and more. Owner Lauren Richardson attended the University of Tampa, majored in business marketing and opened her first location in Downtown Orlando in 2012. Their third and most recent location opened in Waterford Lakes in 2020. The brand is always looking to expand their range while keeping prices affordable to stay accessible to consumers. Lauren Nicole has everything I want in a boutique, with their aesthetically pleasing interior and stylish clothes to match. I will definitely be visiting again soon.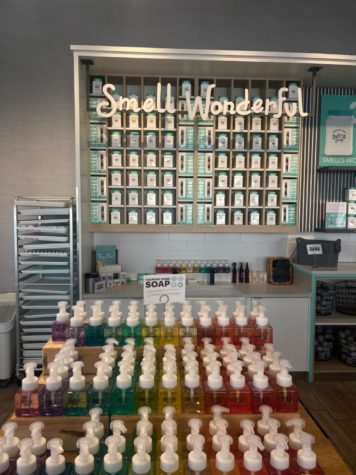 My last stop of the day was Buff City Soap, and I was not disappointed. The staff was extremely knowledgeable about the product and the store was very spacious with lots of room to display various soaps and lotions. The store was separated by type of product: bath bombs, whipped body butter, laundry detergent, and of course, bars of soap, which you can watch being made in real time. According to staff member Jon Cushaney, one of the staple products is their bar soaps, ranging in different color palettes and scents.
"On average, we make about 18 loaves of soap a day. Each loaf has about 18 bars in it, and the entire process takes two days to complete from mixing the soap to putting it on shelves," Cushaney said.
Since its founding in 2013, Buff City has grown exponentially, with 66 total locations. Although Buff City started with its bars of soap, since then, they have expanded to include other body care items. All products, ranging from product categories like bath and shower to face and body and even laundry soaps, are made in-house. 
"Our laundry soap is definitely one of our most unique products. Most people that we give samples to end up being our most loyal customers. They always come back for more and end up branching out to some of our other items," Cushaney said.
Overall, Buff City Soap was definitely an essential and stand-out stop on my trip, and I am very pleased to have found it.
Waterford Lakes has everything a shopping lover would enjoy and is filled with many tasty restaurants and excursions like PopStroke miniature golf and Regal Cinemas to make your visit memorable and fun.
About the Contributor
Kailey Calvo, Staff Reporter
Kailey Calvo is a sophomore at Hagerty High School, and this is her first year on staff. In her free time, she enjoys reading, writing, journaling, listening to music, traveling to new places and being involved in her community.