photo by Skyler Glenn
Pho Wheels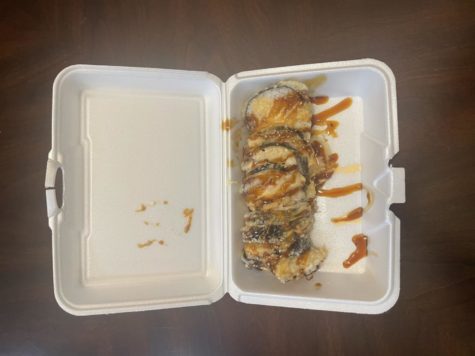 Price: $11 | Average Rating: 4.5/10
While walking down the rows of food trucks, Pho Wheels caught our eyes with their $10.65 fried sushi. Offering this along with noodle and rice bowls, Pho Wheels did not live up to our expectations.
Nadia: The sushi itself was barely fried and had no crunch, only an unappealing layer of white crust around the edge. There was the tiniest amount of crab inside the roll, which was mainly just rice with yum yum sauce on top. The sauces masked the other flavors in the rolls and made them extra sweet–in fact, too sweet. Overall, I had high hopes for Pho Wheels, but I gave them a 4/10 for the lack of crunch and sweetness overload.
Skyler: Sushi is one of my favorite foods, and I definitely prefer it to be cooked. When I saw that Pho Wheels offered deep-fried sushi, I was so excited, but upon our taste test, I realized that my expectations were far too high. The "sushi" wasn't sushi at all—it was a circular piece of rice with a singular, tiny piece of rice in the middle. The sauce drizzled on top was quite sweet, and I think it would have paired well with more seafood, but it was out of place on this entrée.