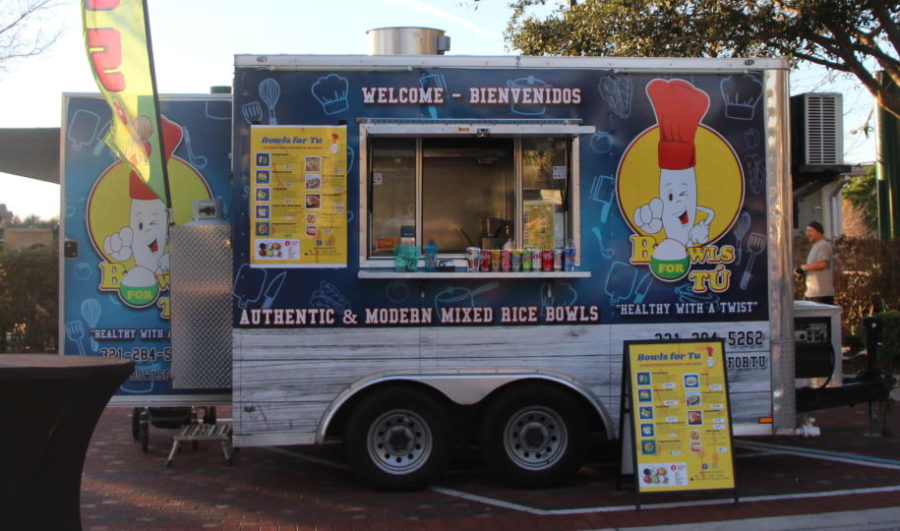 photo by Skyler Glenn
Bowls for Tú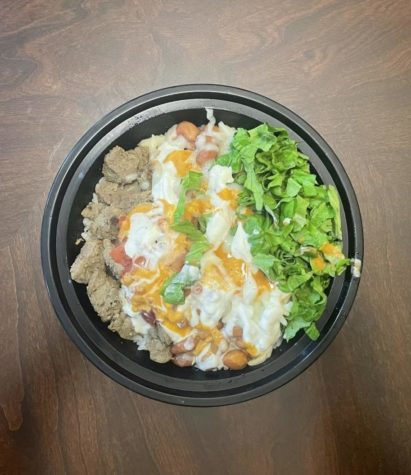 Price: $14 | Average Rating: 7/10
The first truck we stopped by was Bowls for Tú, which served Hispanic fusion cuisine including Colombian hot dogs and a variety of mixed bowls. Looking at the menu, we selected the pork rice bowl as our first meal, and it got us off to a great start.
Nadia: With pico de gallo and our choice of chipotle and garlic sauces, this bowl came with lots of different flavors. While the flavors could have been turned up a notch, they still paired well together. For staying in the to-go box for about an hour before we ate, this bowl stayed nice and warm, and sogginess was not an issue. While we were missing some bursts of flavor, we were definitely not short on lettuce, even to the point where it was falling out of the bowl. Despite the bowl being one of the better options of the night, we don't think it lived up to its price. In the end, I give Bowls for Tú a 7/10 for their variety of options and quick service.
Skyler: The steak bowl from Bowls for Tú was good, but not great. I enjoyed the flavors that were packed into the steak and sauces, but there was an overwhelming amount of vegetables—especially lettuce, which was cut in a weird way and made it really hard to eat with a spoon. The bowl would have benefitted from a crunch factor, like crushed up tortilla chips, and some more spices. Next time, I would probably try hot sauce instead of garlic sauce. For a food truck meal, however, it was pretty healthy, which is a plus. I give it a 7/10.