OASA Winter Ball connects Asian community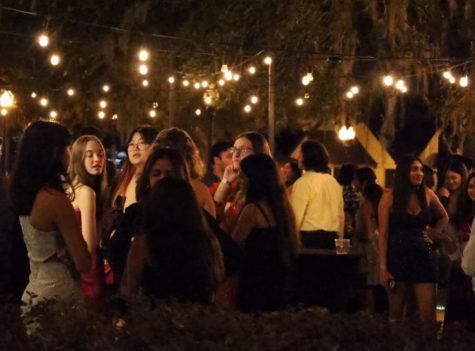 Glistening lights, a duck-filled pond and wisteria flowers marked the entrance of the ballroom. Students gathered around the outside area of the venue wearing various types of traditional clothing such as ao dai (Vietnamese), qipao (Chinese), and sari (Indian).
On Jan. 20, the Orlando Asian Student Association's annual winter ball was held at the Venue of Lake Lily. There was an inside ballroom and reception area where students could serve their food. Inside the ballroom, purple ribbons greeted the guests, along with a photo booth to take pictures with friends. On the outside venue, a walkway facing a pond and a small playground to the further right were in place, where people could walk around and take pictures.
The purpose of the dance was to connect the OASA, which sponsors Asian clubs around the central Florida area.
"A lot of schools have Asian clubs, but we don't get a chance to meet each other," organizer Siya Patel said. "This just became a social event to come and support all Asian associations and also for the members of all schools to meet each other."
Patel, a senior from University High School, started planning the event at the beginning of the year. She worked on finding a venue that would accommodate a large number of students and that could set a fun environment to dance and enjoy. The vendor reached out to Patel and the club officers, they closed the deal a few months prior to the dance, and decided on food and decorations.
The theme for the event was wisteria, a plant that  symbolizes protection and safe haven in Japanese culture. A total of 11 schools attended the event from both Orange and Seminole counties, out of 400 available tickets, 386 were sold. The profit from the tickets will be summed up and split up between the schools' clubs to fund supply and food costs for future meetings. 
One of the attendees was junior Ailinh Vu, who wore a custom ao dai, a traditional Vietnamese dress that was designed by her grandparents and shipped from Vietnam.
"I wore the ao dai since it's a really important cultural symbol in Vietnam," Vu said. "That is why my grandparents took the time to get it customized."
Vu joined the Asian club at Hagerty because she wanted to learn more about Asia and get to connect with people in her community. Once she found out about the dance, she thought it was a great opportunity to be part of a larger family.
"I decided to go for an opportunity to meet people that share similar cultures and experiences to me," Vu said. "It reminded me that the Asian community is a family I am proud to be a part of."
Vu was not the only person who attended with cultural attire. Junior Zahra Ateeq decided to wear a teal gown with an orange dupatta (a scarf that accompanies the gown) to celebrate her Pakistani heritage. Ever since she found out about the winter ball, she decided to show off her nationality with her clothing.
"One of my favorite parts of the ball that made me feel connected was the fact that they played lots of desi music (bollywood music)," Ateeq said. "It was really cool to be at an event like that and know that I was being represented through the music, the songs I grew up with, especially since it's rare to see that type of representation."
This year was Hagerty's first time attending the annual dance. Junior Nicole Chmilnitzky, the Asian Club president, plans to make this dance an annual event for the club to participate in.
"[The dance] was a great opportunity to connect with other students of the community," Chmilnitzky said. "It was great to see everyone enjoy this event that took a lot of time and dedication to plan."
About the Contributor
Greta Carrasco, Opinions Editor
Greta Carrasco is a sophomore at Hagerty High School, and this is her second year on staff. She was born in Mexico and is fluent in both English and Spanish. Her favorite types of stories are news and editorials.