The high stakes of marijuana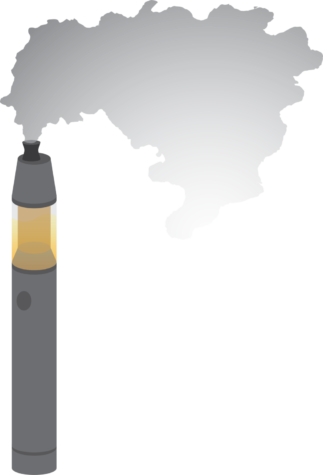 In 2019, Senate Bill 182 legalized medical marijuana usage in the state of Florida, allowing anyone with a Medical Marijuana Card to purchase cannabis products. Three years later, over ten licensed dispensaries now operate in Central Florida. But as legal users get comfortable, so do underage students. 
According to school administration manager Jason Maitland, staff can usually expect up to 30 caught cases of drug use on campus every year, but he expects that number to grow even higher as odorless cartridges and dab pens replace joints and blunts, making it easier to use marijuana on campus. According to the SCPS Student Conduct and Disciplinary Code, students found in possession of marijuana are subject to consequences independent of those outlined by the school, such as arrest, jail time, community service and license suspension. 
"Pens are easy for students to use because there's almost no smell," Maitland said.  "Instead of having to light it up, they can just take a hit in five seconds and be on their way."
Underage marijuana users most often use vape pens for their discretion. Similar to a nicotine vaping device, a THC-concentrate oil is stored in a cartridge, heated and inhaled as vapor. Although these devices have become popular among underage users, they come with a greater risk. While licensed dispensaries sell untampered, authentic THC vape pens, underaged users most often buy illegal ones, according to Maitland. 
"Students don't know how strong [these substances] are, so they end up getting sick, and we literally have to call for paramedics to make sure they're okay," Maitland said. "Cartridges, especially those specific to THC, are sometimes counterfeit, and what's in that liquid hasn't been regulated." 
Retailers also offer products containing cannabinoids, chemicals that mimic the effects of marijuana, to dodge restrictions. For example, the cannabinoid Delta-8 has rapidly spread across Florida, with retailers arguing that the Agricultural Improvement Act of 2018 failed to mention the substance, so it must still be legal. While it is true that the act holds Delta-8 as a recreationally legal substance, the U.S. Food and Drug Administration adamantly warns against its usage – 70% of reports involving Delta-8 required medical intervention, and 45% of these reports involved minors. 
As a former marijuana user, Jacob* believes he holds a different perspective on weed than most of his peers after losing a friend to a drug overdose in 2021.
"When he overdosed, it hit," Jacob said. "It was one of those situations where I realized I had to stop smoking because he was so careful with everything, and he said he knew his seller, but he still died."
While marijuana is less likely to be laced with opioids as drugs like cocaine and LSD, it can still contain substances like laundry detergent, embalming fluid or lead, according to the American Addiction Center. Dealers often use these substances to "bulk up" low-quality cannabis, and they almost always cause unpredictable side effects, or in some cases, overdose. Shortly after his friend's passing, Jacob stopped smoking, only to continue to encounter underage users even more frequently, both in and out of school. 
"My dad is in the fire department, and I would be hearing about laced weed every night," Jacob said. "Then I would come to school and my friends would be high. For me, there's always a worry that something could happen."
Though she herself does not use marijuana, Jane* frequently encounters the drug on school grounds, most often in the parking lot or in school bathrooms. 
"When I'm walking to my car I almost always pass a car that's speeding through the parking lot with their window open and it just reeks of weed. It's disgusting," Jane said. 
As students continue to use weed pens on campus, administration knows that the issue is nothing new, but nonetheless, unsettling. School Resource Officer David Attaway says he worries most for students' health. 
"I feel disappointed to know that kids are abusing their bodies when they are so young. They don't know what they're doing," Attaway said. 
Administration relies on reports from students, teachers and parents, according to Maitland. He encourages teachers to keep telltale signs of smoking or vaping devices in mind.
"Educating not only the parents but also staff members is important because while some staff members can spot some of the devices, others might not,' Maitland said. "And because we have both a social worker and mental health counselor on campus, students suffering from addiction should reach out for help." 
*names have been changed for privacy
About the Contributors
Sophia Canabal, Lifestyles Editor
Sophia Canabal is a senior at Hagerty High School, and this is her third year on staff. Her hobbies include collecting rubber ducks and backseat driving.
Andrew Wilson, Staff Reporter
Andrew Wilson is a junior at Hagerty High School, and this is his first year on staff. He is excellent at writing fiction pieces, sketching realism, and designing graphics in Adobe.