Theater ranks Superior at districts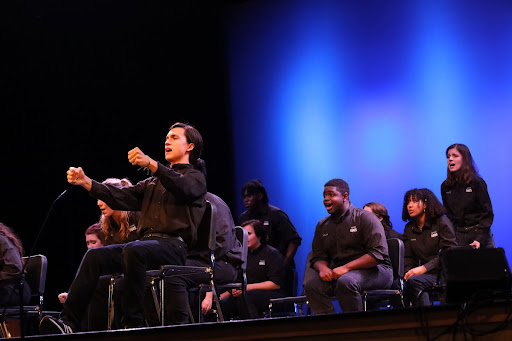 As junior Carter Wegman, playing John Brown, and senior Lily Joseph, playing Abigail, kissed on stage to close their performance of "Abigail 1702," The audience stared in silence and then burst into applause. 
"The kiss was the most memorable scene, the audience went crazy," Wegman said. "They cheered louder for us than any other troupe."
On Dec. 3, the theater department traveled to Lyman High School for their annual Thespian District Performance, receiving a Superior on their performance of "Abigail 1702," a sequel to The Crucible. 
According to Solomon, the performance has been months in the making as the theater department first started casting the act last April. One of the department's most difficult challenges was finding time to work on the act while also rehearsing for Pygmalion, their most recent production. The cast also lost three weeks of rehearsal time to hurricanes Ian and Nicole. 
"We lost so much time, but the performance was still really good. As actors, we fed off of the audience's reactions, and the audience loved it," assistant director Zoey Zachry said.
Most of the cast received their scripts at the end of the previous school year, and the department started blocking and choreographing the act in August. 
"The performance took lots and lots of fine-tuning," Solomon said. "We first worked on memorization and character development over the summer, but then we had two hurricanes, so time became a big issue."
The department scrambled to prepare for individual performances, taking place in a showcase on Dec. 10. Zachry is preparing a student-directed scene, where she chose a scene from a play and created a scene design, choreography and casting. Though she was concerned that her actors were rushing to memorize their lines, she still expected good feedback from the judges. The student-directed scene received a Superior. 
"I was nervous about what the judges have to say because they give feedback right after the performance ends. But I chose two people that really work well together on stage, so I know it won't go too badly,"  Zachry said.
About the Contributor
Sophia Canabal, Lifestyles Editor
Sophia Canabal is a senior at Hagerty High School, and this is her third year on staff. Her hobbies include collecting rubber ducks and backseat driving.