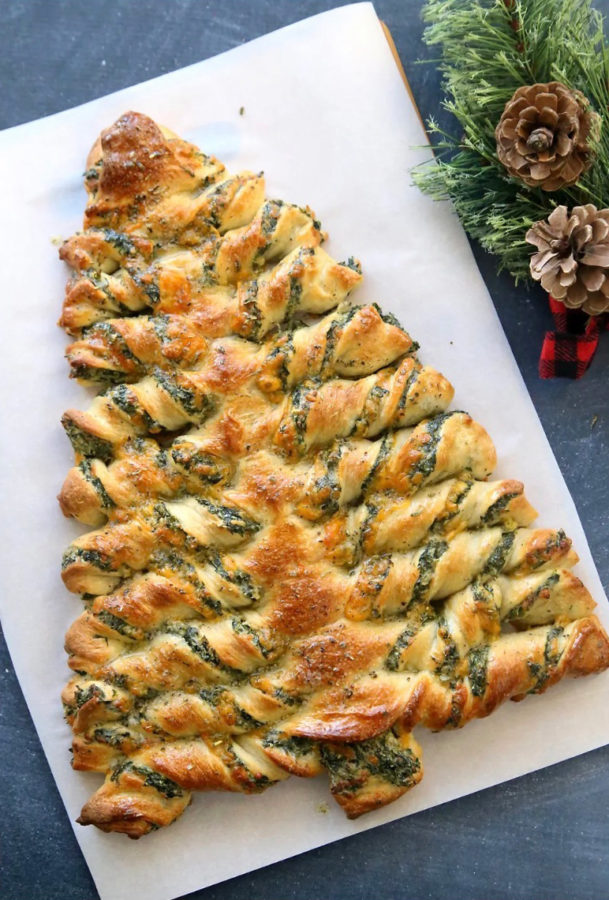 photo by itsalwaysautumn.com
Christmas Tree Spinach Breadsticks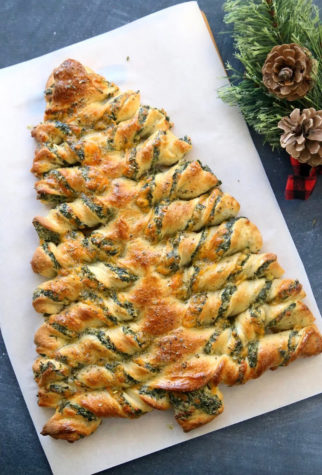 Ingredients:
12 oz Frozen chopped spinach thawed and squeezed dry

6 oz cream cheese softened

2 cloves garlic, minced

1/2 teaspoon salt

1/2 teaspoon onion powder

1/4 teaspoon chili powder

1/4 teaspoon pepper

1 teaspoon Italian seasoning

1/2 cup grated parmesan cheese

1 cup grated cheddar OR mozzarella cheese

1 tube refrigerated thin crust pizza crust

2 tablespoons butter

1/2 teaspoon Italian seasoning

1/2 teaspoon garlic salt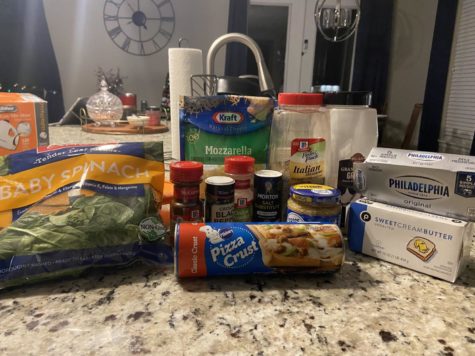 Start by mixing together the spinach and cream cheese until all the spinach is covered and the cream cheese is distributed throughout. Then put all of your seasonings and garlic into the bowl with spinach and mixed and combined. Add in your mozzarella and half of the parmesan and mix again.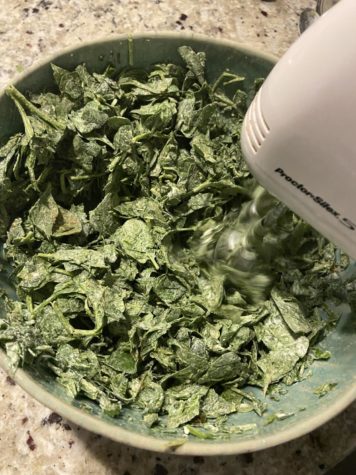 Once the spinach mix is done, cut pizza crust dough into the shape of a tree (large triangle) and place spinach mix over it. Once your dough is covered, cut the remaining dough into thin slices and place over the entire spinach base. Finally cut your dough between each line slightly and twist it together.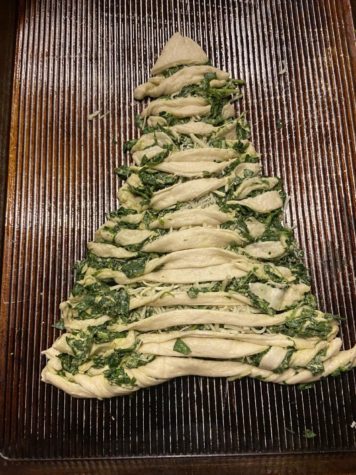 Place the tree in the oven at 400 degrees for 22 minutes. Mix together butter and Italian seasoning while cooking. Once it is cooked, rub Italian butter mix onto baked breadsticks.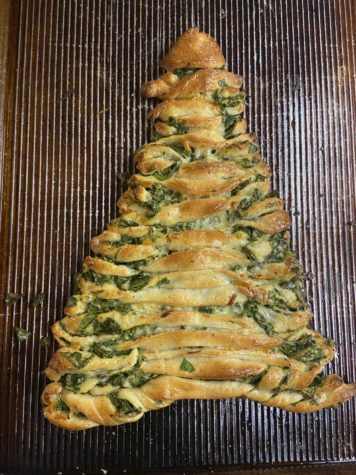 NAILED IT This is definitely a fun little snack to make if you are looking for a Christmas party holiday treat. With the exception of a few things, this treat is one with a lot of seasonings so you will probably have most of the ingredients already, making it only cost about $10. These spinach breadsticks were fairly easy to make, however, shaping them into the actual tree was a bit of a challenge. We recommend cutting the strands of dough covering the top thicker, that way when you twist them it is a lot easier. Even with the struggle, this snack was definitely tasty and an interesting take on plain old breadsticks. Looks may be deceiving to some, but in the end the amazing taste was all that mattered.